Lot Size Calculator for MT4
Lot Size Calculator is a indicator free indicator for MT4 that quickly calculates the correct lot size to use in a trade. Since risk management is one of the most important aspects of trading, this is a tool that you want in your arsenal.
---
Lot Size Calculation in MetaTrader
Calculating a lot size in MetaTrader is normally not a quick task, but it is a very important one.
MetaTrader doesn't offer a fast way to calculate the position size, so, usually, a trader needs to manually perform several calculations.
When you are submitting an order, you are already supposed to know and type in the lot size for the trade.
So in this case, you should calculate it manually using the formula shared in our How to Calculate Position Size in MQL4 guide.
An alternative is to use an online tool, which isn't fastest way of doing this, obviously.
Lot Size Calculator is an easy and quick tool to calculate the position size in MT4 and see the lot size and risk-to-reward ratio.
Lot Size Calculator indicator for MT4 is a great tool to easily calculate the position size for a trade.
With Lot Size Calculator, you can:
Set your risk management preferences.
Select the percentage of risk.
Configure stop-loss and take-profit by points or prices.
Set stop-loss and take-profit by dragging lines on chart.
Immediately see the possible loss and profit.
Calculate the ideal position size to meet your risk management.
See the Risk Reward Ratio for a trade
This trading "plugin" allows you to perform operations that usually are not so quick and it is very simple to use.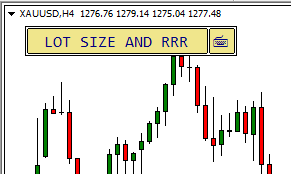 The graphical interface is designed to be as simple as possible.
---
Note About Risk Management in Trading
Whether you trade Forex, stocks, indices, commodities, or any other instruments, it is no secret that risk management is fundamental.
Risk management consists of a set of rules that can keep your account safe from unexpected events.
During your trading activities you will encounter periods of drawdown. You will encounter consecutive streaks of losses.
Using sound risk management can make a difference between blowing your account up or not.
Also, risk management is often the most striking difference between a successful trader and an amateur.
Risk management includes concepts like:
Stop-loss
Position size
Risk-to-reward ratio
Stop-loss
Stop-loss is a price, or a distance from the open price, where you want to exit a trade.
The stop-loss order is your last call to exit a trade and is part of almost every strategy and trade that you execute.
So, if you are in a trade, and the price moves against it, there is a price where the trade will be closed and the loss will become realized.
As a general rule, you should define the stop-loss before entering a trade.
Lot Size
One of the most popular rules of risk management is to invest in each trade only a small percentage of your entire account. This is to prevent your account from blowing up in case of a streak of losing trades.
For example, if you risk 25% of your account with each trade, after a streak of 4 losing trades, you are left with almost nothing.
If you use only 2.5% risk, after a streak of 4 losing trades, you would still have more than 90% of your balance available. Of course, if the trades were winners, the profit would have been higher, but it is important to be prepared to a high number of losing trades in a row.
Once you decide on your stop-loss price, it can be used in the calculation of the lot size, or position size, for the trade.
Another factor to consider to calculate the lot size for a trade in Forex, or another Asset, is the amount you are willing to risk. Depending on your strategy's statistics, usually you shouldn't risk more than 1% to 5% of your balance on a single trade.
You probably know that a common rule is to risk a maximum of 2% of your account. Once you settle on your strategy, risk, and stop-loss, you can calculate the lot size.
Risk-to-Reward Ratio
Another important aspect of every trade, or strategy, is the risk-to-reward ratio.
Risk-to-reward ratio indicates the ratio between the profit and the loss expected in a trade.
If you see a risk-to-reward ratio of 2 it means you are risking $1 to gain $2.
For example, you set the stop-loss for a trade to 100 pips and the take-profit to 200 pips — this is a risk-to-reward ratio of 2.
---
Features
Stop-Loss and Take-Profit Configuration
With this indicator, you can easily set the stop-loss and take-profit directly from the panel and then adjust the levels on the chart.
The chart is interactive, and you can move the lines to adjust the levels accordingly.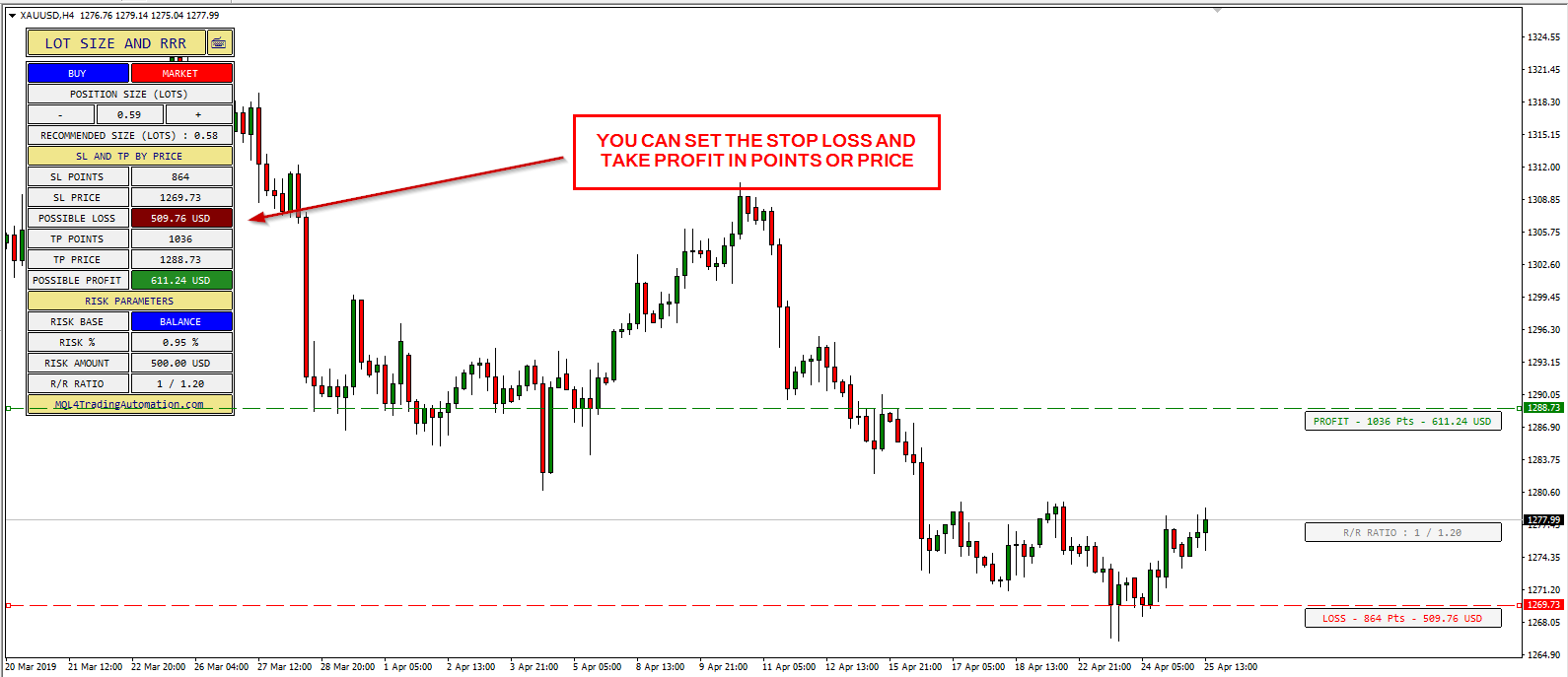 Position Size Calculator
If you set a stop-loss, the Lot Size Calculator for MT4 immediately calculates the volume to satisfy the risk management conditions. Stop-loss can be set as distance from the open price or as an absolute price level.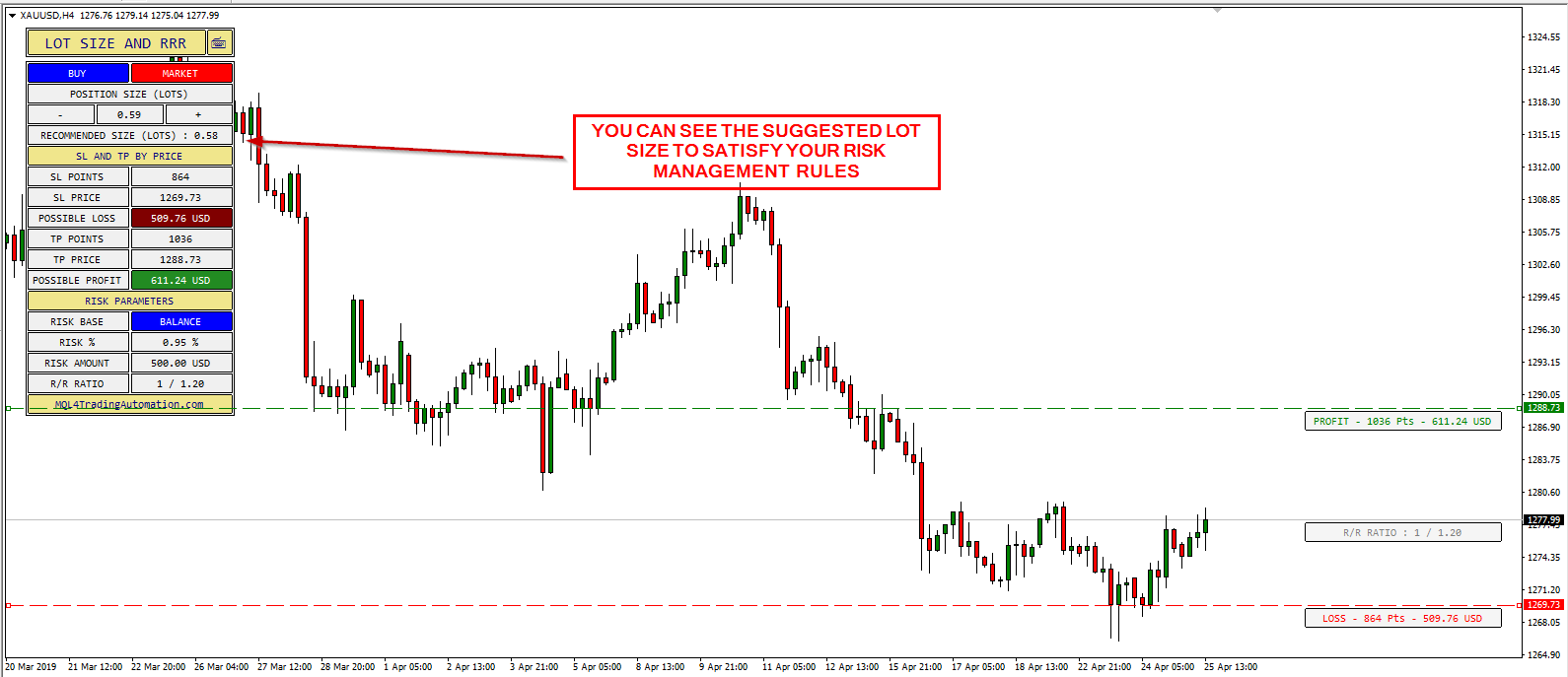 Risk-to-Reward Ratio Calculator for MT4
If you set both stop-loss and take-profit, the indicator will show you the risk-to-reward ratio. This is very useful if you need to check if the trade satisfies your strategy's rules.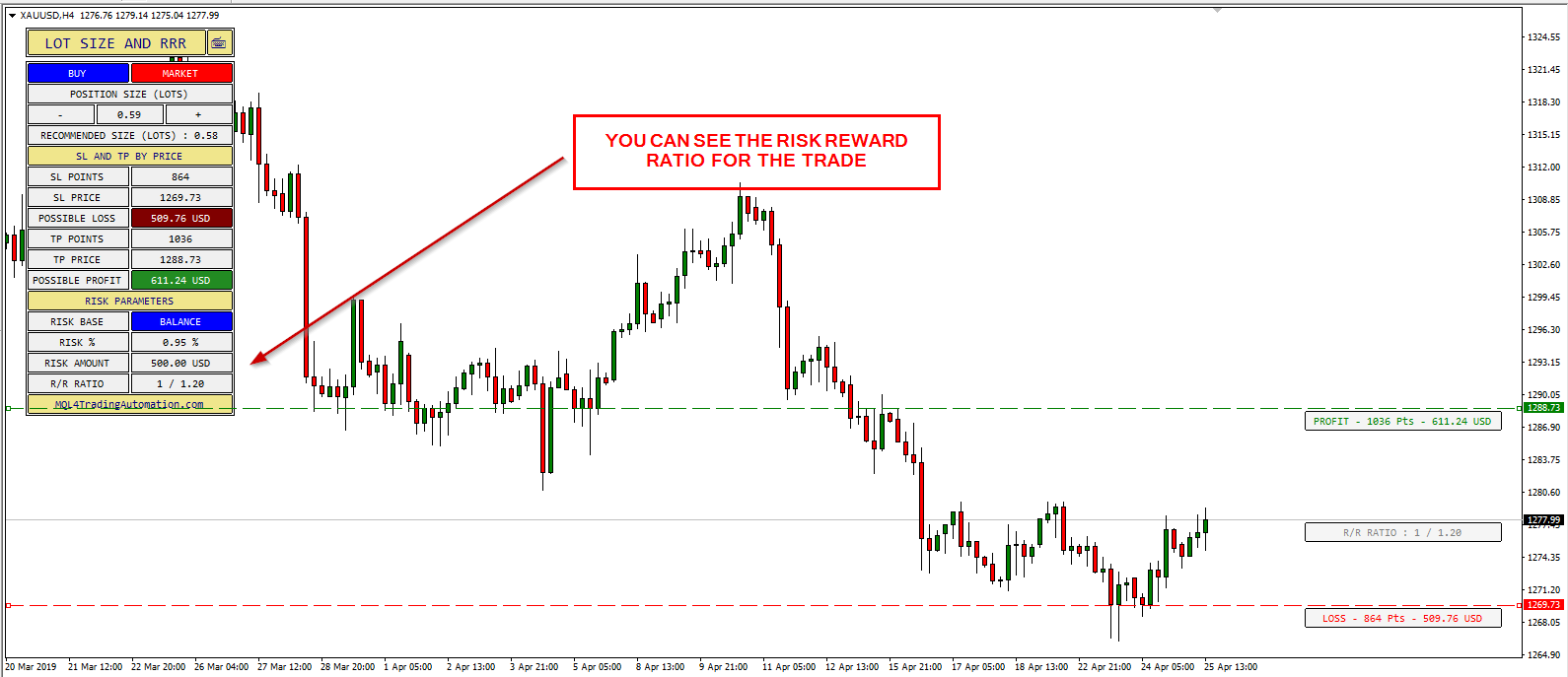 Risk Management Parameters
The indicator also allows you to change the calculation base, percentage, and amount you risk for flexible calculation.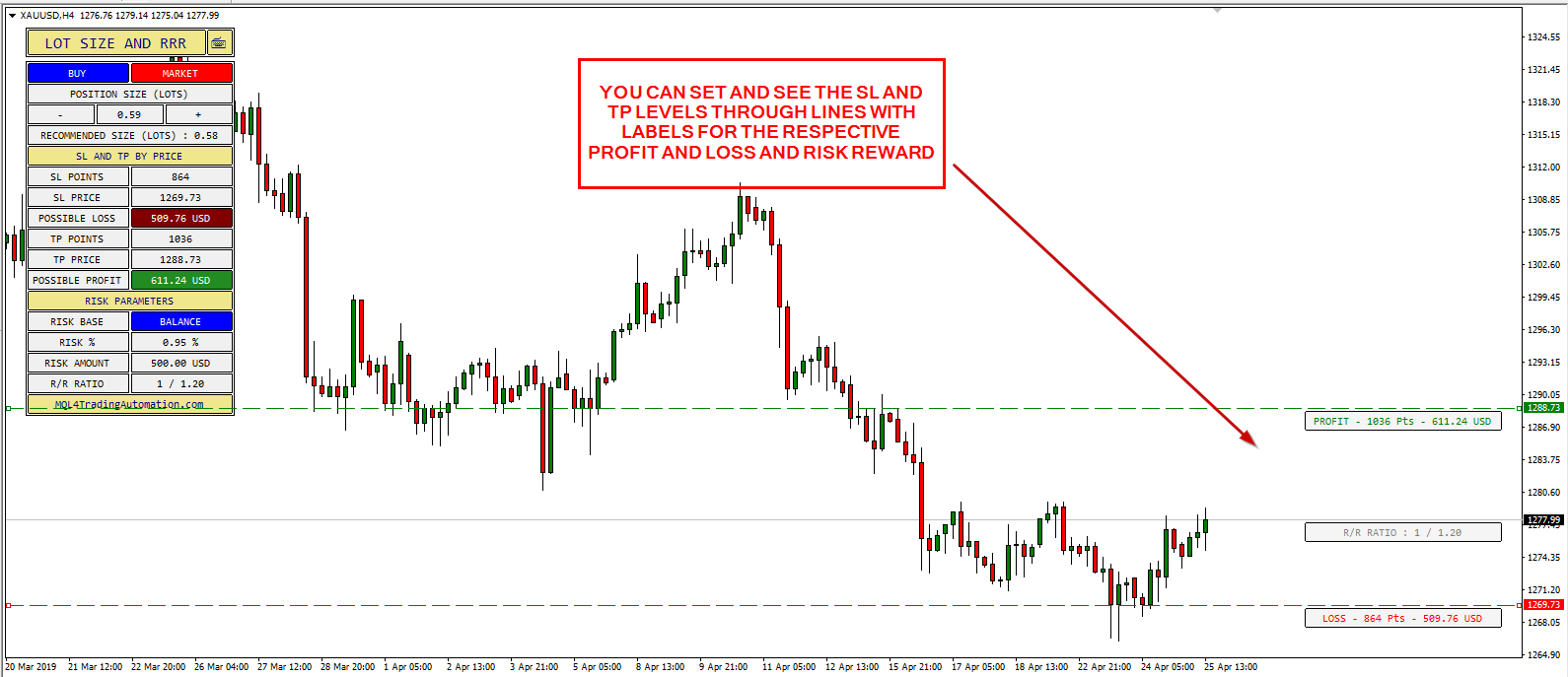 ---
---
MT4 Lot Size Calculator Installation
To install MT4 Draw Grid indicator, please follow the instructions below:
Download the indicator archive file.
Open the MetaTrader 4 data folder (via File→Open Data Folder).
Open the MQL4 Folder.
Copy all the folders from the archive directly to the MQL4 folder.
Restart MetaTrader 4 or refresh the indicators list by right-clicking the Navigator subwindow of the platform and choosing Refresh.
If you are having trouble following these installation instructions, you can read our guide to MetaTrader product installation.
---
Parameters Available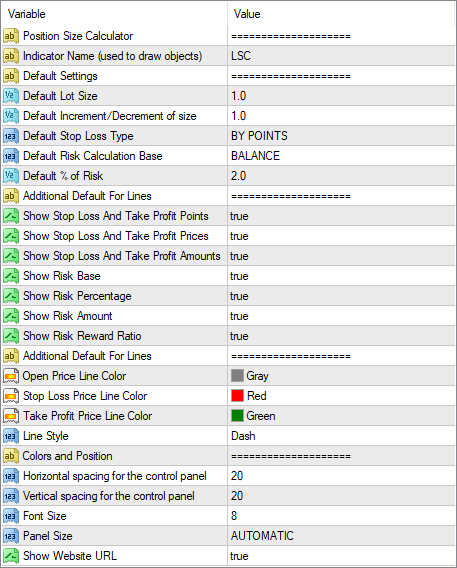 ---
Requirements and Support
MetaTrader 4 — this indicator is supported by MetaTrader 4 only.
Free — no purchase/license required.
Multiple instruments — you can use this tool with multiple pairs and assets.
Multiple devices — you can set this software up on as many devices as you want.
---
FAQ
What do I need to run this indicator?

This indicator is a plugin that can be added to MetaTrader 4 platform.
Does this indicator work with multiple assets?

This calculator can be used with any asset and pair in MetaTrader 4.
Can I use it on multiple devices?

You can use it on as many devices as you want.
How do I install the indicator?

The installation process is described above.
How much does it cost?

The indicator is completely free.
Can you add a feature to it?

Probably not. However, Lot Size Calculator is supplied with open source code. You can modify it yourself or you can hire an MQL4 coder to do it for you.