The MetaTrader 4 and MetaTrader 5 platforms from MetaQuotes Software Corporation are recognized leaders among the Forex trading software. The fifth version of the terminal was launched in 2010. Since that time, it has been changed and upgraded several times. MT4 platform appeared in Forex brokers' accounts in July 2005. Currently, both software products develop independently. So, what are the main differences of the 5th and 4th versions of MetaTrader?
Design
From the design point of view, MT5 looks very similar to its predecessor. The workspace of MetaTrader 5 is divided into the same logical parts as MT4: Market Watch, Navigator, Trading, and the financial instrument's Chart.
The changes have been made only to the design of some buttons. Contextual menu has been updated to offer chart type switching between line, bars, and candles. A layman would not tell any difference between MetaTrader 5 and MetaTrader 4 at a first glance. Visual distinctions are almost absent.
MT4 terminal's workspace looks like this:
5th version's design is nearly the same: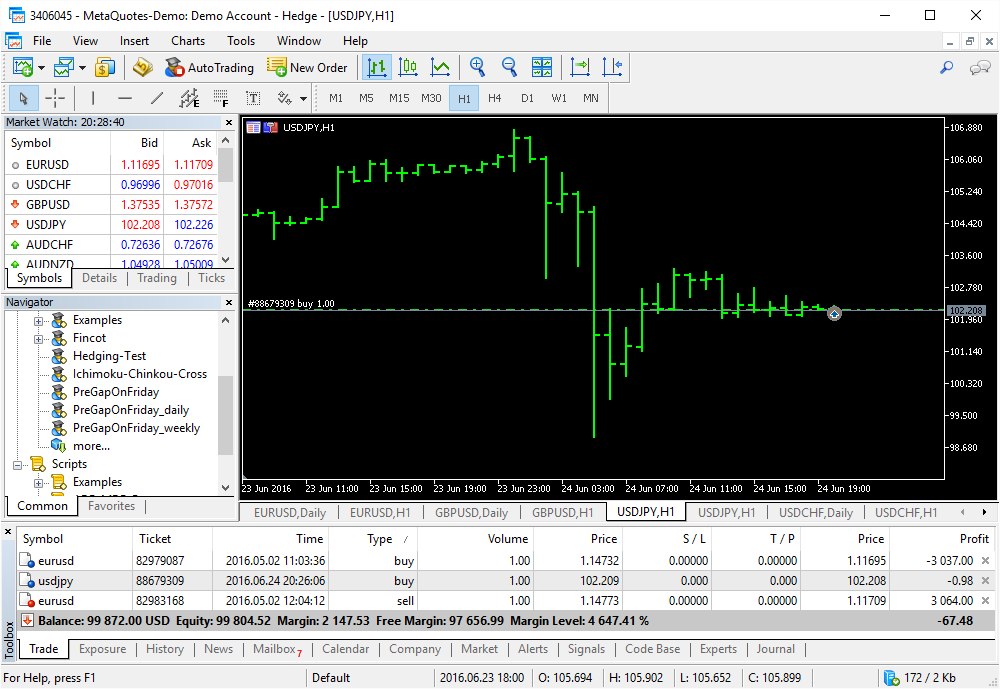 Timeframes
MT5 trading platforms offers 9 standard timeframes: M1, M5, M15, M30, H1, H4, D1, W1, and MN. The assortment of time periods in MT5 terminal is much wider. In addition to the timeframes presented in MT4, the 5th version boasts the following ones: M2, M3, M4, M6, M10, M12, M20, H2, H3, H6, H8, H12.
In MT4 platform, you would need to use a special script to show non-standard timeframes on the chart. In MT5, you can just configure them for the top control panel: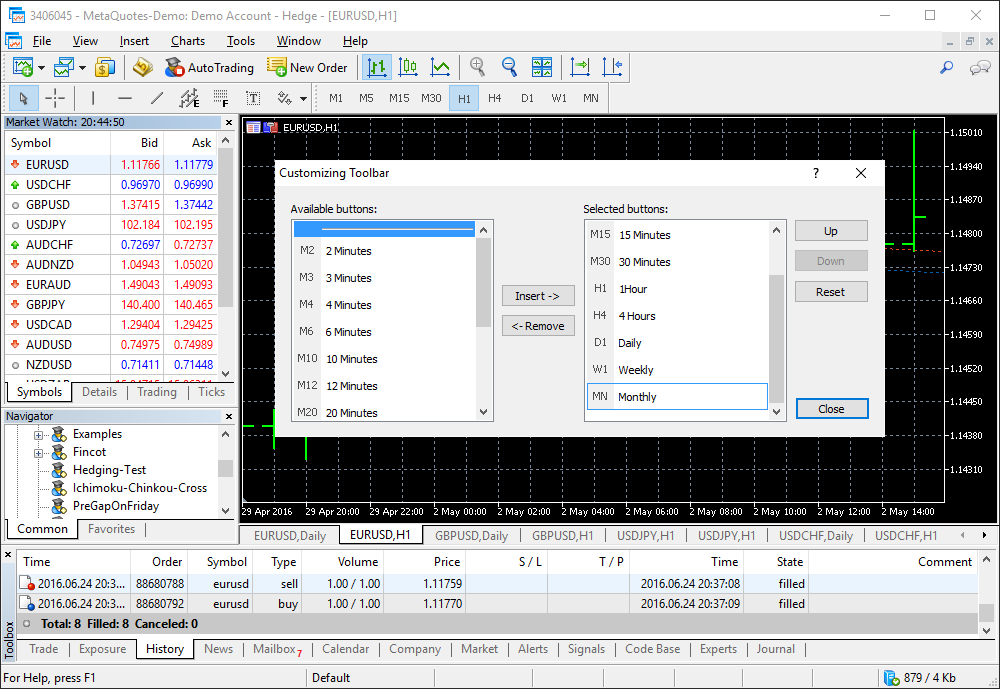 Trading
Previously, MT5 did not support position hedging. A trade executed in an opposite direction would close (partially or completely) the existing position. During platform's update in April 2016, MT4-like hedging has been introduced into MetaTrader 5.
At the same time, traders can still open accounts, which use netting position system (without hedging) at MT5 brokers.
In hedging mode, the trading account will show all positions opened for the same trading instrument at different prices and different time. In netting mode, such positions would be aggregated together. The terminal would be showing average price and net volume.
Order management
In the latest version of MetaTrader, you can drag-and-drop the stop-loss and take-profit levels with your mouse. This feature works in normal mode and in One Click Trading mode. The difference is that the former requires manual confirmation for each SL or TP change while the latter means instant change of the respective trading levels.
In MT4 terminal, this feature works only with One Click Trading mode turned on. The price change is instant. MT4 and MT5 work similarly in this regard. However, if One Click Trading is turned off in MT4, the order modification is more diffic