Open All Charts Script for MT4
In some cases, you might want to open a set of charts as quickly as possible. This can be required when, for example, you want to load historical data in a specific timeframe. Another example is when you are using an indicator that uses multiple currency pairs.
Open All Charts is a super simple script for MetaTrader 4 that opens charts for all the currency pair available in your platform at a specified timeframe.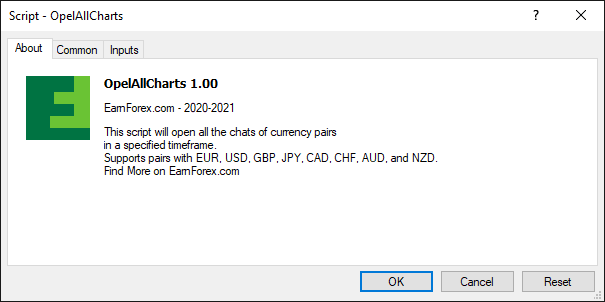 The script can be very handy in certain situation, but it has some limitations — it only works with Forex symbols and it won't open charts for some ultra-exotic currency pairs. Only pairs containing EUR, USD, GBP, JPY, CAD, CHF, AUD, or NZD will be opened. However, this is quite easy to change via the script's source code.
You can also use this script's code as an example of an MQL4 program that works with symbols and charts in MT4.
The script is free to download and use.
Download Open All Charts
To install the script, please follow the instructions below:
Download the script archive file.
Open the MetaTrader 4 data folder (via File→Open Data Folder).
Open the MQL4 Folder.
Copy all the folders from the archive directly to the MQL4 folder.
Restart MetaTrader 4 or refresh the list of scripts by right-clicking the Navigator subwindow of the platform and choosing Refresh.
You can also read a more detailed instruction on how to perform the installation.