How Does VPS Work in Forex Trading?
What is Forex VPS?
Forex VPS is a service that helps traders to deploy their expert advisors on a dedicated server that will be running 24/7 without interruptions, independently from the trader's own computer, and without any efforts from the trader's side. VPS hosting companies usually charge from $5 to $99 per month (depending on the server's quality and the company's greed). If you have a working MT4 EA, it is always better to install it on a VPS than on your home PC, because when an EA is running from your home or office PC there is always a chance for some unexpected problems (like Internet disconnections, power outages, system errors, etc.).
Why use Forex VPS?
But how does VPS work in trading? What can VPS do? The general scheme of how the VPS is used in trading can be seen below: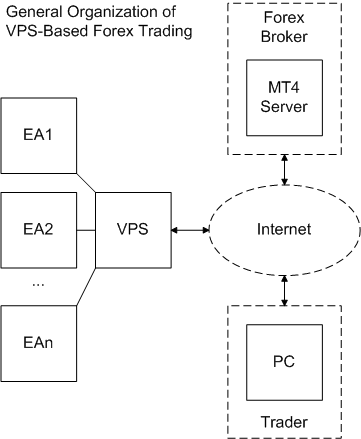 All three entities — trader's PC, VPS with EAs, and broker's MT4 server — are connected to the Internet. Trader has still a choice to control the VPS and upload new EAs to it and also to control and monitor its trading account with a Forex broker. Fortunately, none of these actions require a 24/7 uptime from the trader's PC or connection. EAs installed on the VPS are sending orders to the MT4 server 100% autonomously. While the actual trading requires a 24/7 uptime, it is provided by the VPS.
It can be seen clearer by looking at the case when the trader runs an expert advisor on his own PC and thus is required to always maintain a persistent connection to the MT4 server:

The difference is seen when the VPS is used to host the expert advisors. Now trader rarely needs a connection to the VPS (only when some adjustments to the EAs should be made), while the VPS remains always connected to the MT4 server and is sending trading orders directly to it:
This should make it easier for traders to understand why it is recommended to opt for a VPS hosting for their expert advisors when they can afford it. Even though the guide uses "MT4" in its text and in the images, it can, of course, be "MT5" or any other trading platform that supports automated trading using expert advisors (or Forex robots).
Forex VPS infographic
If something still isn't entirely clear for you about how VPS works in Forex trading, here is simple infographic that explains the virtual private server in just three mouse scrolls:

Frequently asked questions about Forex VPS
Can I use a VPS even if I do not have the Internet at my house?
You will need the Internet connection to buy a VPS, to install indicators and EAs, and to set them up. After that, if your EA doesn't require constant tuning, you can leave the VPS alone.
Is it dangerous to host my Forex trading account and my expert advisors on a VPS?
There are certainly some risks involved if you deal with a shady or unprofessional VPS provider. Although it is impossible for the VPS operator to steal funds from your Forex trading account, they could copy your strategy or your expert advisor. Poor quality VPS could also result in significant deterioration of your EA's performance. However, when working with a good professional VPS provider, your trading account and robots become much safer than they can ever be on your home PC.
Can I have multiple accounts on a single VPS server? For example, 5 different accounts with 5 different brokers running different expert advisors?
Sure, but the VPS should be powerful enough to handle that. The cheapest package will probably be too slow to support five platforms running simultaneously.
Can I still manage my EA on a VPS and choose when it should trade and when it should not? Can I still close my trade manually, stop the EA from trading anytime I want if it is running on a VPS?
Yes, you surely can do that. You may log in to your VPS anytime and control your EA the way you want.
Can an EA or an indicator that alerts me by email on MT4 still send me emails when set up on a VPS?
Yes, it will be able to send you email alerts if you configure email settings properly in your MT4 on the VPS.
Do I have to leave my Internet connection on in order for the VPS to still be able to trade? Can I log off on my home computer?
You do not need to leave your home Internet connection on if you have everything set up on your VPS.
Are there any free and good VPS providers?
Unfortunately, there are no free VPS services. However, some Forex brokers offer "free" VPS to traders on some condition — e.g., a minimum deposit, a minimum number of trades per month, and so on. That isn't entirely free, but this allows you to save the money you would otherwise spend on your VPS plan.
Can I use more than one VPS service to connect to a single Forex account?
Actually, yes! You can connect to the same trading account from multiple VPS services at a time and have different expert advisors trade there from different terminals.
If you have any questions or comments on using a VPS hosting in FX trading, you can direct them to our Forex forum.