Book Review: The Mental Strategies of Top Traders (Ari Kiev)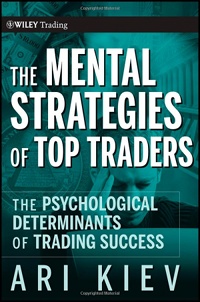 The Mental Strategies of Top Traders is the second book from the recommended list in the Diary of a Professional Commodity Trader by Peter Brandt that we also reviewed (the first one was Trading for a Living). Actually, the book should have been called The Mental Strategies of Top Portfolio/Hedge-Fund Managers as it has little information about active trading and a lot of information on managing and leadership.
Unfortunately, The Mental Strategies will not teach you how to trade Forex. Probably, you will also have a kind of WTF feeling while reading it if you thought that it is about actual trading (as we had). Here is a short list of things that this book by Ari Kiev will tell you:
The most important traits of a successful trader are: the ability to control emotions in trading, independence, the ability to disregard one's image in the eyes of others while in the decision-making process, the ability to communicate with others.
Having a trading plan helps with emotions.
A trader has to review one's successes and failures to improve.
A trader should always stay goal-directed, especially during turbulent market conditions.
In financial trading, risk-taking is unavoidable and should always remain under thorough control.
Good traders should not be too cautious. Perfectionists are rarely very good traders.
Drawdowns and other statistical indicators of trader's performance should be reviewed to understand one's risk-taking attitude and, perhaps, improve it.
Trader's psychological profile should be reviewed to understand what kind of risk-taker one is.
To gain an advantage (edge) over the market, a trader should find out something that is unknown to the rest of the market. Common methods of analysis are not suitable for that. Thinking outside the box is a crucial in trading.
The best trades are the ones that offer the bigger difference between the price expected by the market and the price expected by the trader.
Successful traders always consider timing of their ideas.
A trader should remain fully responsible for one's trading actions, even if one is actively seeking opinions of colleagues and analysts.
A trader must learn to remain comfortable with the uncomfortable.
Self-esteem is a serious factor in trader's psychological profile.
Successful traders are team players. A good team player should be "responsible, positive and encouraging, competitive, and coachable."
To build a successful team of traders, a manager has to encourage communication.
Teamwork should focus on the goals of the entire organization rather than the goals of individual traders.
Good team leaders often look to improve themselves and their team.
Leadership can be coached.
The objectives of a leader are: "creating, managing, motivating, and training a team."
Becoming a good leader takes time.
Although the general impression this book leaves isn't very good, there are certain advantages that are worth pointing out:
The biggest advantage of Ari Kiev's book is that it offers a lot of useful insights regarding psychological traits of traders and managers.
It can help you improve some of the described qualities.
Some interesting trading ideas (only for stocks) are presented.
Interviews with successful traders and portfolio managers, though how legit are they isn't entirely clear.
As you probably see, there are some important disadvantages with Kiev's book:
It is not about trading specifics; it is just about psychology.
Mostly useless to retail online Forex traders.
Full of stock trading slang with no references.
Understates the importance of randomness and overrates the importance of psychology in trading.
The price. There is nothing to pay $30+ for.
The book looks like an ad for Ari Kiev's coaching services, which probably are far better than his book.
Once again, following Peter Brandt's recommendations has led us to an overpriced mediocre book. It isn't a big deal. At least now we know something about portfolio managing and successful trader's psychological profile. Most Forex traders will be able to find a better use for their money and time.
If you have any questions, comments, or opinion regarding The Mental Strategies of Top Traders by Ari Kiev, please feel free to post them on our Forex forum.