Inside Bar Trading Strategy
Inside Bar Forex trading strategy — a popular system with a nice win/loss ratio but a rather rare occurrence of the proper entry conditions. It doesn't require any indicators and can be applied on the bare candlestick or bar chart.
Features
Entry conditions are clearly defined.
Very simple bare chart system.
High success rate.
Rare occurrence of the proper conditions.
How to Trade?
An inside bar is a bar or a candlestick that completely fits into the first preceding bar (also called a "container" bar), including its High and Low values.
If the current bar has an index of 0 and the previous bar has an index of 1 then the following conditions should be true for the current bar to count as an inside bar: High[0] < High[1] and Low[0] > Low[1]. Mind the strict "greater" and "less" operators.
Bearish inside bar that follows a bullish "container" bar on the clearly visible uptrend signals a Short position.
Bullish inside bar that follows a bearish "container" bar on the clearly visible downtrend signals a Long position.
Stop-loss is set to the Low of the "container" bar for the Long positions and to the High of the "container" bar for the Short positions.
Take-profit should be set to the nearest support/resistance level formed by the trend.
Example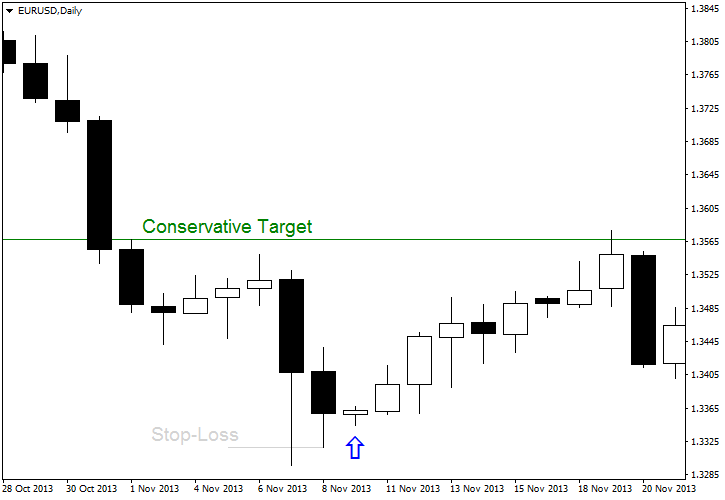 A bullish inside bar after a downtrend is shown on the example chart. The inside bar is easy to identify and the stop-loss level is rather conservative here. The target was set to the resistance level formed by the previous downtrend. As you can see, the currency pair rate reached the take-profit level without any problems.
Warning!
Use this strategy at your own risk. EarnForex.com can't be responsible for any losses associated with using any strategy presented on the site. It's not recommended to use this strategy on the real account without testing it on demo first.
Discussion:
Do you have any suggestions or questions regarding this strategy? You can always discuss Inside Bar Strategy with the fellow Forex traders on the Trading Systems and Strategies forum.