Book Review: Technical Analysis for Dummies by Barbara Rockefeller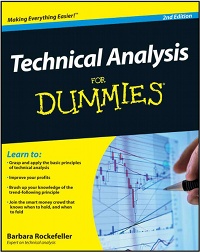 Technical Analysis for Dummies was one of the first For Dummies book on financial trading that was suitable for Forex traders. There are two main reasons for a currency trader to read it. The first reason is the author — Barbara Rockefeller, who was a regular contributor to the Currency Trader Magazine (before its closure) and is the author of our free Forex course. The second reason is the quality of the entire For Dummies franchise with their tendency to explain rather difficult things to complete amateurs. Even if you do not consider yourself a dummy in trading, the book might help you by refreshing some memories and turning your attention towards some interesting problems in market operation.
In addition to being an author of several books on trading and writing for magazine, Barbara is also an active Forex trader and runs a Rockefeller Treasury Services FX consulting agency with some good free stuff on the website.
So, to the book... Our overall impression from this book is rather good. The only big con it has is that it is not about the foreign exchange market directly, it is about stock market analysis, which is a slightly different kind of beast of course. Here is the short list of things you will learn from Technical Analysis for Dummies:
The difference between investing and active trading.
How to spot trends.
The basic concepts of technical analysis.
How to relate crowd behavior with what is happening on the chart.
What reverting to the mean means.
What magic number theories exist in technical analysis.
Measuring the market sentiment with volume, cycles, and numbers.
Basic information on technical indicators in general.
How to choose a right timeframe.
How to test indicators.
How to manage trades, size positions, and control losses.
How to read bar, candlestick, and point-and-figure charts.
Some basic bar, candlestick, and point-and-figure chart patterns.
What price gaps are and how to treat them.
How to trade the most popular chart patterns.
How to draw trendlines — internal and rule-based ones.
How to draw and trade price channels.
What breakouts are and how to spot the real ones.
What linear regression is and how it can be used in trading (and how it should not be used).
How to draw and use the following technical indicators: moving averages, MACD, momentum, RSI, stochastic oscillator, Bollinger bands, ATR, and parabolic SAR.
What is price momentum.
What is price volatility.
How to combine several trading ideas properly.
How to build and use a mechanical trading system.
Ten secrets of the top traders, ten rules of working with indicators, and ten ways the modern market is different from 10–12 years ago.
As you can see, this book has a lot to offer if you are really new to technical analysis. Here we will also list the things about this publication that we liked especially:
At least some references to FX market and its technical analysis differences with stock market are given.
Barbara warns her readers about many possible pitfalls of relying on technical tools.
An introduction of point-and-figure charts to new traders' field of view.
Author's explanations on momentum and volatility can definitely fill some gaps in a newbie's understanding of the concepts.
Introduction of pretty clear trendline drawing rules.
This quote deserves a special prize:
Eat your spinach — take the darn loss and move on.
Unfortunately, it is not a perfect book at all, so here are some of the disadvantages we will point out for you:
Sometimes (e.g., Chapter 5), Barbara refers to results of "some research" without specifying which. Can be rather annoying.
Chapter 16 suggests using money management stops, which is a really destructive trading idea.
Later in the same chapter, Barbara adds up probabilities in a little strange way — using simple arithmetical addition.
The author seems to be forgetting about demo testing when in Chapter 17 she claims that backtesting is the only way to evaluate an indicator.
An advice to "get disclosure of all the indicators and rules and verify results yourself by testing the system on the same historical data as the vendor's track record" is quite illogical. What vendor would disclose his trading rules if they are what he is selling?
To draw a bottom line, Technical Analysis for Dummies is a great introductory book that definitely deserves your attention if you are not an expert in TA and if you prefer trading stocks to currencies.
If you have any questions, comments, or opinion on Technical Analysis for Dummies by Barbara Rockefeller, you can discuss this book on our Forex forum.