Administrator
Staff member
Nov 30, 2008
17,846
1,224
144
MetaQuotes released a new version of the
MetaTrader 5 platform
yesterday - Build 3260. It is now available via automatic update in your broker's platform. The update adds some exciting new features to the MT5 platform:
Added a bulk position closing facility - you no longer need specialized "Close all" scripts to close all trades in MT5. The built-in menu allows closing all, closing all profitable, and closing all losing positions, as well as delete all pending orders operations.
Added more features to the terminal chat facility.
Optimized terminal graphical functions.
Fixed calculations of daily price changes for futures.
Fixed errors when purchasing of MQL5.com services.
Fixed operation of the "Start" button for purchased Market products - it will now correctly launch the product on the currently open chart.
Fixed errors in positions history reports.
Added more functions to MQL5 standard library to work with vectors and matrices.
Added three methods to all arrays: ArgSort - sort the array by a specified dimension, Range - return the number of elements in a specified dimension, and Size - return the number of all elements.
Added eight methods to all strings: BufferSize - return the buffer size allocated for the string, Compare - compare to strings and return the difference as an integer, Length - return the number of characters, Find - find a substring, Upper - convert all characters to upper case, Lower - convert all characters to lower case, Replace - replace a substring, Reserve - reserve a buffer for the string.
Added SYMBOL_SUBSCRIPTION_DELAY parameter to the ENUM_SYMBOL_INFO_INTEGER enumeration to get the quote delay for the specified trading instrument.
Added ACCOUNT_HEDGE_ALLOWED parameter to the ENUM_ACCOUNT_INFO_INTEGER to find out whether simultaneous opposite positions are allowed in this trading account.
Added SYMBOL_SWAP_SUNDAY, SYMBOL_SWAP_MONDAY, SYMBOL_SWAP_TUESDAY, SYMBOL_SWAP_WEDNESDAY, SYMBOL_SWAP_THURSDAY, SYMBOL_SWAP_FRIDAY, and SYMBOL_SWAP_SATURDAY parameters to the ENUM_SYMBOL_INFO_DOUBLE enumeration to get the swap information for a specified trading instrument on a given day of the week. It can return 0 (for no swap), 1 (for normal swap), or 3 (for triple swap).
Fixed operation of the CopyTicks() and CopyTicksRange() functions. They could return outdated data under some conditions.
Fixed some other errors.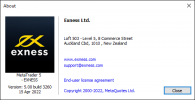 MetaQuotes' forum announcement thread:
https://www.mql5.com/en/forum/392425
If you find a bug or some undocumented feature in the new build, please post about it here.