Administrator
Staff member
Nov 30, 2008
17,844
1,223
144
MetaQuotes has released a new version (Build 3210) of the
MetaTrader 5 platform
and it is now available for automatic update in your broker platform. It introduces some new and fixes some bugs:
Added new class methods to work with matrices and vectors in MQL5 language.
Fixed formatting of floating point numbers in input parameters.
Fixed errors in the standard Math.mqh library.
Fixed an error in CopyTicks() and CopyTicksRange() functions that could yield outdated tick data.
Added INDICATOR_FIXED_MINIMUM and INDICATOR_FIXED_MAXIMUM values to the ENUM_CUSTOMIND_PROPERTY_INTEGER enumeration to dynamically control custom indicator min and max levels via the IndicatorSetInteger() function.
Changed how Sharpe ratio is calculated in the Strategy Tester to use a 1-year period in the formula.
Optimized consumption of computer memory by the trading terminal.
Removed zero level from a separate indicator window when grid is turned off.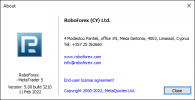 MetaQuotes' forum announcement thread:
https://www.mql5.com/en/forum/388634
If you find a bug or some undocumented feature in the new build, please post about it here.