Administrator
Staff member
Nov 30, 2008
17,142
1,048
144
The latest version (Build 3180) of the
MetaTrader 5 platform
is now available for automatic update in your broker's platform. It introduces several new features - both in the terminal and in the MQL5 coding language - and numerous bug fixes:
Fixed moving a trading operation from the History tab to the chart - it now properly activates the chart, so further actions happen to the active chart it was moved to.
Double-clicking a trading operation in the History tab, now opens a trading dialog for the same symbol.
Real trading volume is now displayed on charts by default when it is available for the given trading symbol.
Optimized user interface display performance.
Improved chart printing in the Terminal.
Fixed trade volume setting in the quick trading panel after pressing the Tab key.
Fixed trading history display on the chart - now, old account trades are properly cleaned from the chart when switching accounts.
Fixed PayPal payments in the MQL5 Market.
Fixed freezes on option volatility charts.
Fixed phone number verification.
Fixed checking the writing rights when joining a group chat via MetaTrader.
Changed "Waiting for update" message to "<Symbol>, <Timeframe>" on a chart that doesn't have any data.
Fixed negative/zero price values display in the Market Watch.
Fixed product logos in the MQL5 Market when working via Wine.
Added vector and matrix classes as standard types with lots of built-in associated mathematical functions.
Fixed behavior of file and database functions when working with too long paths.
Fixed variable constancy control in the MetaEditor compiler.
Fixed incorrect warnings about uninitialized variables in the compiler.
Fixed ChartWindowOnDropped() function in indicators to not always return zero.
Added support for Python version 3.10 in the MQL5 Python module.
Fixed display of the VPS in the Navigator subwindow to not disappear when switching accounts.
Fixed display of complex expressions in the Debugger's observation window.
Fixed export of test reports to files.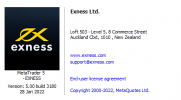 MetaQuotes' forum announcement thread:
https://www.mql5.com/en/forum/387082
If you find a bug or some undocumented feature in the new build, please post about it here.