Nov 13, 2012
478
70
74
61
H4 Time Frame
50 Period Exponential Moving Average
7 Period Commodity Channel Index
Stop Loss 14 Period Average True Range on Previous High/Low
28 Currency Pairs (Majors and their Crosses)
This strategy concept was originally developed by
Sam Seiden
, a veteran floor trader with 15 years experience on the Chicago Mercantile Exchange. It is a very effective trading method that is easy to interpret and simple to apply.
As the name suggests, the
Trend Continuation Strategy
is focused on trading continuation signals. The basic premise is that trend continuations are far easier to identify and take advantage of, than trend reversals, and as a result, profits are much more consistent. Having used this strategy since October 2018, I can vouch for this. It works.
I will not attempt to re-write Sam Seiden's strategy here. Instead, I encourage you to watch his video:
Using CCI and Stochastics For Long and Short Term Forex Trading
(13 January 2016, FX Street).
Picking the exact point at which a trend reversal occurs can be incredibly profitable, but incredibly difficult to achieve on a consistent basis. Continuation trades, although offering smaller profits than trend reversals, occur often within a given price trend and offer many opportunities with good profit potential.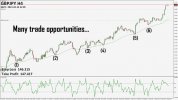 Signal interpretation is a simple 5-step process that is performed in no particular sequence or order, and considers the following factors:
Price action in relation to the Exponential Moving Average (EMA);
The EMA slope;
Price retrace to EMA;
Price break above/below the previous high/low; and
Confirmation given by the Commodity Channel Index.
The two price charts that follow demonstrate how this works.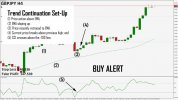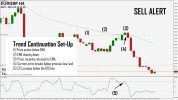 Here's the only catch. The need to monitor 28 currency pairs on the H4 time-frame does make this strategy a bit time intensive. This is a negative, but it is well worth it if you are able to dedicate the time needed.
Alternatively, if you are not able dedicate the time, or just prefer not to, you could do as many other advocates of this strategy are doing, and subscribe to my You Tube channel for live notifications whenever a trade set-up is triggered. It's completely free. No hidden agenda.
Here's an example (AI voice-over is used for speed):
We are all trading the exact same strategy, interpreting the exact same trade set-up signals, and you will continue to apply your knowledge of the strategy to confirm a trade set-up and decide if you want to trade it. The only difference is that you only need to dedicate your time when it's worth the effort. Something to consider!
I hope you find this strategy as useful and fruitful as it has proven to be for me!