EURUSD NUDGES HIGHER AMID RISK-ON MARKET MOOD, EYES ON US ELECTION RESULTS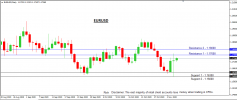 EURUSD trades near the 1.1740 neighbourhood in the early Asian trading hours as investors brace for the US Presidential election outcome. Markets wager the prospect of Joe Biden's victory along with a divided Congress that will probably dim chances of higher taxes and strict financial regulations.
As of now, the currency pair is trading at 1.1740, representing gains of 0.17%
Coming to the previous session, EURUSD witnessed a two-way price action to finally conclude the session on a flat note near 1.17211, slightly up by 0.08%. The pair initially peaked at the 1.1770 level and then plunged to 1.1602 amid the heat of the ongoing US election battle that showcased an excruciatingly close race between the two candidates. Although later, the Euro gained ground versus greenback amid prevailing risk on sentiments and better than anticipated Eurozone data. As per reports, German services PMI stood at 49.5 against the forecast of 48.9, while for the Union the data improved to 46.9, better than market expectation of 46.2. Besides, the US ISM Services data showed disappointing results, thus benefiting the demand for the shared currency.
Moving ahead, investors await the EU Economic Forecasts, Retail Sales data, and the US Unemployment Claims report for short term trading impetus.
SOURCE FXVIEW FB:
www.facebook.com/fxviewdotcom/posts/232260671649640