Bollinger bands is one of the most popular technical indicators. It can be used for trading breakout strategies as well as for capturing reversals. Below you can download a free expert advisor for MetaTrader 4 that uses Bollinger bands breakouts for entry signals.
The indicator is based on standard deviation measurement and plays a role of volatility bands for the given exchange rate. A breakout beyond those bands is a statistically rare even, which signals a significant predisposition of traders to either buy or sell.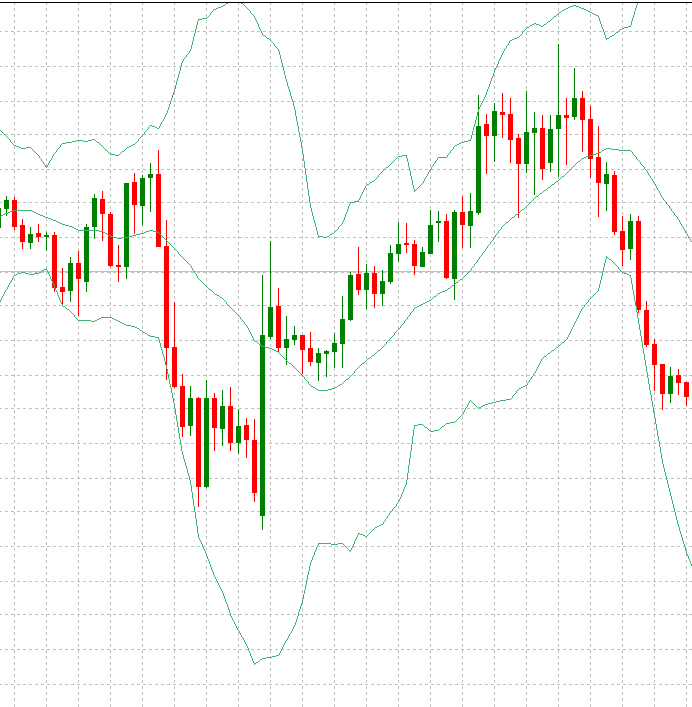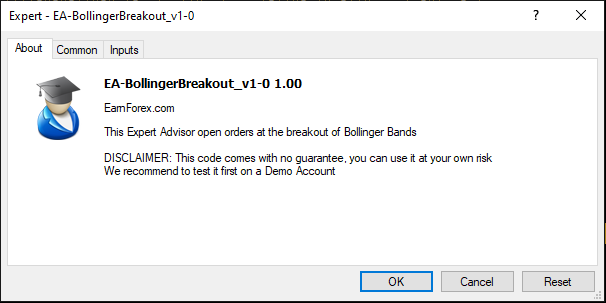 ---
Input Parameters
Position Size — to define the position size.
Stop-loss in pips.
Take-profit in pips.
Slippage in pips.
Enable trade — to enable or disable the trading function.
Period of the the Bollinger Bands.
Deviation of the Bollinger Bands.
---
Entry Signal
Buy signal when the price is above the upper band.
Sell signal when the price is below the lower band.
---
Exit Signal
Fixed take-profit or stop-loss hit.
---
Results on EUR/USD @ H1
Backtesting the expert advisor on the EUR/USD @ 1-hour timeframe shows an interesting result. Despite not being stable, a high risk-to-reward ratio allows the EA to be profitable in the tested period. However the profit is rather small and the periods of drawdown are long. This EA's could be attributed to pure luck with just a few trades. It should be significantly improved if you plan using it in a live account.
---
Strength
High risk-to-reward ratio produces a profit in the tested period.
EA isn't heavily impacted by a ranging market.
---
Weakness
The EA can suffer from false breakouts.
---
What Is It Good For?
The profitability in the backtested period can indicate potential. The EA could be improved with further condition and become even more profitable and consistent.
This expert advisor is free to download and you can use its .mq4 source file to develop your own EA's.
---
Installation instructions:
Download the expert advisor .mq4 file.
Open the MetaTrader 4 data folder (via File→Open Data Folder).
Open the MQL4 Folder.
Copy the .mq4 file to MQL4/Experts/ subfolder.
Restart MetaTrader 4 or refresh the expert advisors list by right-clicking the Navigator subwindow of the platform and choosing Refresh.
Or you can read a more detailed instruction on how to perform the installation.
If you are interested in building your own expert advisor or knowing more about how to do it, check our MT4 Expert Advisor Template.