Book Review: The New Trading for a Living by Dr. Alexander Elder
The New Trading for a Living is a revised and updated version of Trading for a Living by Alexander Elder, one of the most popular and bestselling volumes in the trading scene of the last three decades. The book covers very well important topics including, trading psychology, discipline, risk control, and trade management. In this new version, the author also removes some of the old and obsolete content and inserts fresh new content, such as new trading systems and tools. Well-suited for beginners and advanced traders with good basic knowledge of the foreign exchange market.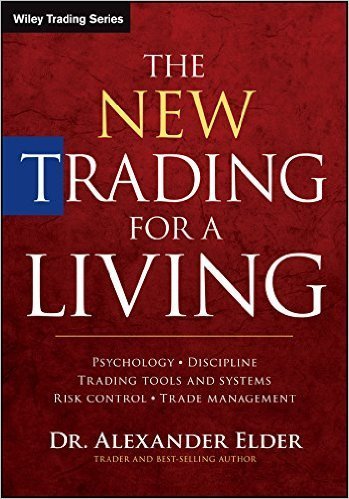 Title: The New Trading for a Living
Published: October 2014
Author: Alexander Elder
Suitable for:
Beginner traders with basic knowledge of Forex
Advanced traders looking to improve the trade management aspect of their strategy
Main topics:
Trading psychology
Trading discipline
Trading systems
Trading tools
Risk management
Trade management
Content
The New Trading for a Living is not a book purely focused on Forex; indeed, it is not called "The New FOREX Trading for a Living". The book is more oriented on general trading concepts for any market and financial vehicle, just to mention a few: stocks, ETFs, options, and Forex. Despite the lack of direct association with currency trading, at least 90% of the content can be applied to Forex trading.
The first part of the book introduces some important psychological concepts that all traders should know. These include motivations driving many people to approach trading, a trader's fears and psychological challenges, skills and mindset necessary to become profitable, and the idea of mass psychology, which is how a group of people behave in the market.
The next few chapters explain charts, technical analysis, some indicators that the author frequently uses in his trading strategies, and some practical trading systems. To be more specific, the author goes through: support and resistance, trends and trading ranges, moving averages, MACD, RSI, and some volume indicators. Part of these indicators and trading systems are not relevant to Forex, but they are good to know for traders in other markets.
The final part of the book is very important and is dedicated to risk management and record keeping. The reader can understand how critical it is to think in terms of probabilities, removing the emotional component from trading behavior, plus they are given rules for risk management. The author ends the chapter by pushing on how important it is to keep a trading journal, recording every trade with full details, because this is the way for self-improvement.
Writing style
It is easy to understand that the author is a doctor and that he is used to teaching. The book is very well developed and it really seems a lecture in a university class. The "student" (reader) is introduced and taught all the subjects with a clear language and right pace. Anyone with basic terminology and knowledge of the mechanism of trading can follow it quite easily. On a side critique, the style is quite cold and the reader could be engaged better.
Value
The New Trading for a Living provides, without any doubt, a very good value for beginner traders. While there are many resources of technical analysis and trading systems on the Internet, many of them lack of good explanations of psychology and risk management. This book covers amazingly those fundamental aspects, so that a beginner trader can improve their skills. An experienced trader is likely to already know the technical analysis part, however they could still benefit from the parts dedicated to psychology, risk management, and record keeping.
Conclusion
The author of Trading for a Living does a great job revising and updating his first book and producing this new version — The New Trading for a Living. The book is more focused on general trading than Forex only. However, if you are looking to improve your mindset and risk management strategies, you will surely benefit from this reading. This book is recommended to beginners with some basic knowledge of technical analysis and to experienced traders with difficulties in becoming profitable.
If you have any questions, comments, or opinion about The New Trading for a Living by Alexander Elder, please feel free to start a discussion on our Forex forum.