Price Line Alert Indicator for MT4
Price Line Alert is an indicator that can notify you when the price hits prices that you consider important. MT4 Price Line Alert indicator sends notifications to your mobile App, email or just to the screen.
What Is Price Line Alert for MT4?
Price Line Alert is an indicator for MetaTrader 4 that allows you to configure multiple levels of alert.
Assume that you want to be notified when the price goes above a level of resistance, below a level of support, or if it hits any price that you consider important. With Price Line Alert for MT4, you can get informed of such events.
MetaTrader 4 offers a very limited price alert facility out of the box, so if you integrate this indicator with your MT4 platform, it will really help you.
The indicator is called Price Line Alert because it draws alert levels as horizontal lines on the chart. This allows you to spot them easily.
Indicator Features
Price Line Alert indicator is a very simple tool, but at the same time, it is very useful to a trader. With a few clicks, you will be able to configure notifications and receive alerts when the price hits some selected values.
Its features include:
Easy-to-use interface.
Multiple levels of alert.
Notifications via pop-up/sound, email, and mobile app.
Levels can be enabled and disabled as necessary.
Custom comment.
Easy-to-Use Interface
Although the indicator is quite feature-rich, its interface is kept as simple as possible. Hovering over a section of it will show its function.
Multiple Levels of Alert
You can set several alerts and receive notifications at different prices. The colored horizontal lines on the chart are the representation of all the levels, so that they are easy to see.
Notifications via Popup, Email and Mobile App
There are three types of notifications: popup on screen (with a sound), email, and mobile app (push-notifications). Please note that it is a prerequisite for email and app notifications that you configure the email section and the notifications section in the MetaTrader options.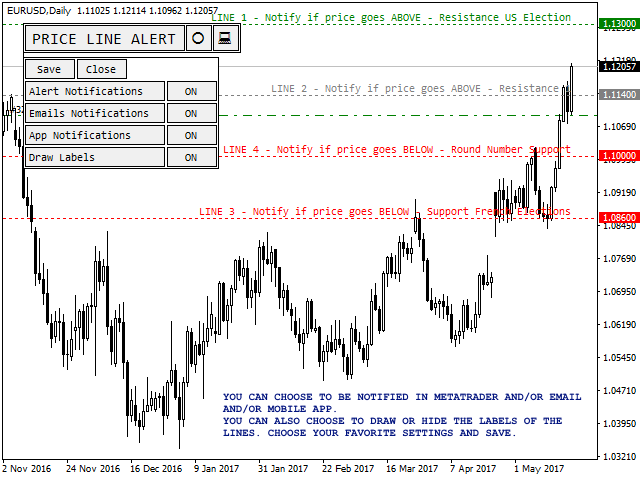 Enable/Disable Levels
You can create "dormant" levels and leave them disabled until you need them. These levels are of the color gray on the chart, meaning that they are not active.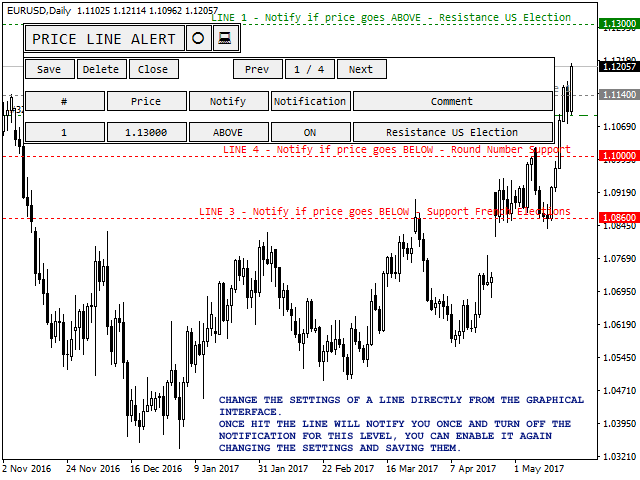 Custom Comment
You can specify a different comment for each level. This way, you can remember what is the notification for.
How to Download and Use MT4 Price Line Alert Indicator?
You can download the indicator for free using the link below and install it by following the provided instructions.
The installation is very easy to perform. The same is true for using this tool.
Once you run the indicator you can set the parameters. You can select the looks of the lines and how to receive notifications.
MT4 Price Line Alert Installation
To install MT4 Price Line Alert Indicator, please follow the instructions below:
Download the indicator archive file.
Open the MetaTrader 4 data folder (via File→Open Data Folder).
Open the MQL4 Folder.
Copy all the folders from the archive directly to the MQL4 folder.
Restart MetaTrader 4 or refresh the indicators list by right-clicking the Navigator subwindow of the platform and choosing Refresh.
For more detailed instructions on how to perform the installation please visit this article.