Sometimes it's necessary to copy all your MetaTrader chart settings to another PC or save them while you are reinstalling Windows on your current PC, or in case you are moving to a new broker and have to download their platform. If you keep only one or two charts open — that's not a problem, but if you keep more than 10 open charts and each of them employs some custom settings it's a real pain to set up them on a new platform manually. It's easy to avoid doing such work by using the Profiles feature in MetaTrader platform. Here's a brief tutorial on how to move all your chart settings from one platform to another:
1. Save all your current charts in your current platform to a new profile: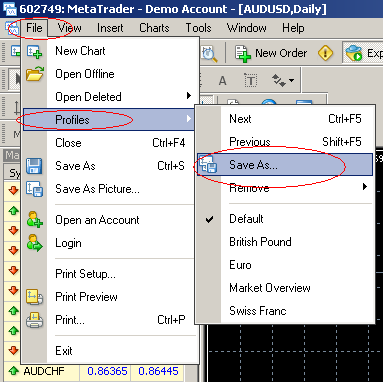 2. Give this profile some distinctive name: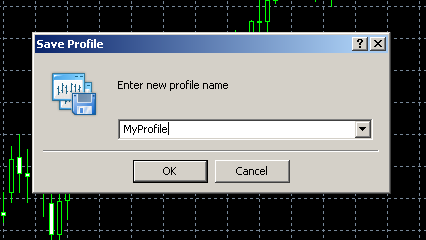 3. It's now available as a separate folder in your MetaTrader's data directory in the «profiles» folder. MetaTrader's data directory can be found at the following location:
C:\Users\<User_account_name>\AppData\Roaming\MetaQuotes\Terminal\<Instance_id>\
You can copy it and then paste into the same «profiles» folder in the new platform's directory (on your new PC or in your new broker's platform):
4. Finally, load a new profile by selecting it in the Profiles menu in your new platform: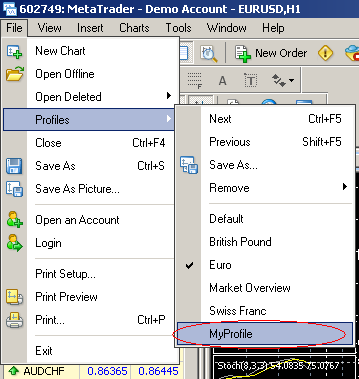 Update 2014-02-06: Updated directory information relevant for MT4 Build 600 and MT5 versions.
Update 2014-09-02: A short video demonstration of copying the charts profile from one MT5 instance to another:


That's it. Nothing difficult or time-consuming. If you have any questions or comments regarding the process of moving the chart settings in MetaTrader, please, feel free to reply below.