On the first trading session of new week, black gold is trading higher in response to the double-trouble in Atlantic region, after storms in Gulf of Mexico disrupted more than half the region's oil production. The storms had shut 58% of Gulf's production, which nearly accounts 10% of the US oil production. However, the upside remains limited as concerns of rapid surge in coronavirus cases continues to weigh on investors' sentiment. Till now, global death toll has surpassed 807,000 level, with rising fatalities in US, Brazil and India. As of now, crude oil is trading up by 0.32% at $42.32 per barrel, while Brent crude is trading flat at $45.44 per barrel.
Talking about the previous session, crude oil slipped by nearly 1% as investors remain concerned over economic recovery due to renewed fears of the pandemic-led lockdowns that can weigh on crude demand. The signs of which were clearly visible in lower India's crude oil imports data that fell to its lowest level since March 2010. While, U.S. motorists drove 13% lesser miles in June than a year earlier, as reported by the U.S. Department of Transportation. Consequently, crude oil ended 1.15% lower at $42.21 level.
Up ahead, investors will remain watchful over coronavirus headlines to ascertain the market direction.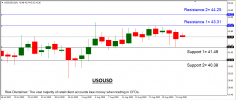 Disclaimer:
Please note this analysis is taken from fxview fb-
www.facebook.com/fxviewdotcom/posts/211788087030232