Administrator
Staff member
Nov 30, 2008
18,082
1,260
144
The following post is a paid advertisement. The content was provided by the advertiser.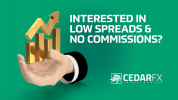 'Tis the Season to Travel and Trade​
With the festivities of the season upon us, here are a few tips on trading during this holiday period.

Long gone are the days suits and skyrises. The modern financial landscape looks a little different nowadays, with much more information and financial control available to the average human. With the holiday season around the corner, we decided to let you know about the perks of online trading, so you never miss an opportunity, even when many businesses have closed for December break.​
Three Benefits to Trading Online​
1. Access:​
With the advancement of modern technology, accessing software online has never been easier or faster. If you are planning to travel during this period, all you need to continue investing and gaining, is a decent internet connection and a smart device such as a laptop or phone.
If you are looking to sign up with a reputable broker,
CedarFX
offers exceptional CFD trading conditions. Once you have registered your live trading account, you can research basic trading strategies or practice on a free Demo account from CedarFX. This is how you will slowly build your ideal portfolio and begin earning profits.
CedarFX
offers unbeatable device compatibility for the MetaTrader4 platform. Whether you are sipping cocktails on the beach and trading from your phone, or next to the fireplace in your snow-covered cabin trading on the web trader via your laptop, as long as you have internet connection, CedarFX has you covered.
2. Trading Hours:​
Perhaps you have decided to vacation in a time zone much different to your usual location, there is nothing to worry about. Online CFD trading with CedarFX means you are able to trade on a vast amount of market sectors 24/5 and cryptocurrencies 24/7. Alternatively, you may only have a few hours in your day to dedicate to trading. Not a problem, with remote access and 24/7 trading options, you can make your trading work with your schedule.
Another feature that benefits traders with restricted hours, is the possibility of using electronic assistants or EAs. These can execute orders on your behalf or copy-trade according to an investor you admire, without you ever needing to check or action anything on your live account.
CedarFX
allows for EAs, robots and techniques such as hedging and scalping.
3. Risk and Return:​
One of the most praised benefits of online CFD trading, is leverage. With traditional stock buying and investing, one would need to provide significant capital upfront in order to enter the market and hold assets in their portfolio. Now you can splurge on your holiday AND trade without spending chunks of money providing the exorbitant capital traditionally needed.
With the leverage offered by CedarFX, you don't need to provide massive amounts of pure capital in order to profit impressively. Leverage gives traders greater exposure to the markets for much less capital investment and works on a ratio basis. With inflation running rampant and a recession on the horizon, every cent one can save goes a long way. Here are the impressive leverage options provided by CedarFX:
Forex – 1:500
Metals – 1:500
Indices – 1:200
Commodities – 1:200
Cryptocurrencies – 1:100
Stocks – 1:20​
Leverage trading comes with its own risks, make sure this strategy works for you before investing.
Start Leverage Trading with CedarFX
The Best CFD Broker offering Leverage?
When it comes to choosing the right broker for you, we recommend
CedarFX,
the World's first green broker.
As outlined, CedarFX offers impressive leverage of up to
1:500
on multiple
asset
classes such as forex, stocks, cryptocurrencies, commodities and metals. They provide rapid deposit and withdrawal processes,
0%
commission accounts and
24/7
expert customer support via call, live chat or email.
0% Commission Account?
When inflation hits, saving money isn't always very easy and every opportunity should be taken.
Make the most of your capital and earn with little expense. The
0% commission
account does exactly as described, charges 0% commission; allowing traders the use of their entire deposit to execute trades. This broker has no hidden fees and ultra-low spreads.
Get started with as little as $10.00, open an account with
CedarFX
today.​