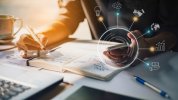 Thinking of starting your own Forex brokerage but don't know where to start? Considering setting up a brokerage by putting good use of all the Forex knowledge you gained through your trading journey?
FX Meta Tech
is a technology service provider specially dedicated to the Forex Brokers. We offer turn-key solutions for both starting & existing Forex brokerages.
Achieving success in today's fast-paced Forex market requires reliable technologies that distinguish a company from others & that's where FX Meta Tech excels. Our system infrastructures are designed in a way where brokers can derive maximum value from the resources they have invested in.
FX Meta Tech works closely with the brokers to ensure that their clients have an effortless trading experience, through the prominent CRM and White Label solutions. From connecting to the heart of the financial market & scalable growth management, FX Meta Tech is the broker's most reliable technology partner.
FX Meta Tech stepped into the spotlight by offering a wide range of innovative solutions and services that empower Forex brokers to minimize risk and optimize the broker's profit. Their professional services have emerged their name from the others in the Forex Industry.
While the scope of the competition is widening up gradually in the FX market, a company with the latest & robust technologies is an upper hand for any Forex brokers. For an elevated and seamless brokerage experience, FX Meta Tech offers the following services:
Client Management (CRM):
Forex Back Office Software
Traders Room
Partner Panel
Forex CRM Module:
MT4 MAM
Risk Manager MT4
Payment Gateway
Connectivity Plugin
MT4/5 Server Hosting
MT4/5 Manager API
Liquidity Feeds
VPS
Corporate Service
Forex White Label Solution
Company Formation Service
Forex Website Development
For more details, visit
https://fxmetatech.com/
Last edited: