Stocks Respond to Powell's Statements, Robinhood's Significant Bitcoin Holdings, and Oil Price Trends with Economic Factors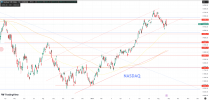 US INDICES:
S&P 500 futures and Nasdaq-100 futures were active. 3M shares surged over 5% after a Bloomberg News report revealed the company's readiness to settle lawsuits regarding defective earplugs. Stocks experienced gains in the last session following fresh statements from Federal Reserve Chair Jerome Powell. Speaking at the annual central bank conference in Jackson Hole, Wyoming, Powell acknowledged ongoing economic growth and robust consumer spending. However, he emphasized the central bank's cautious approach to further rate hikes. Traders on Monday morning were factoring in an approximate 20% likelihood of a rate increase during the upcoming September Fed meeting, according to CME Group's FedWatch tool. The final week of August began with major indices poised to close the month with losses. Since the beginning of the month, the Dow and S&P dropped by 3.4% and 4%, respectively, while the Nasdaq experienced a decline of around 5.3%.
The Nasdaq is exhibiting weakness at its current high levels. The value of 14650 serves as a neckline for a head and shoulders pattern that is forming, indicating an anticipated potential reversal. The median line of the actual bullish channel is working as a support level too.​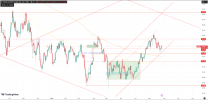 USOIL
China's move to boost its struggling economy had a limited impact on oil prices, which remained largely steady. Concerns about the pace of economic growth and potential US interest rate hikes that could weaken demand persisted. To stimulate struggling markets, China halved the stamp duty on stock trading. Attention also turned to Tropical Storm Idalia, which posed a potential threat to oil and gas production in the US Gulf.
Tropical Storm Idalia was strengthening as it approached Cuba, potentially causing power outages, which could lend short-term support to oil prices despite the hawkish stance of the Federal Reserve on rate hikes.
Oil prices, supported by decreasing oil inventories and production cuts from the OPEC+ alliance, remained above $80 per barrel. Saudi Arabia was anticipated to extend its voluntary 1 million barrels per day oil output reduction into October, aiming to provide continued market support.
The WTI price touched the support level near 77.50 and is now rebounding. The level at 81, where the 100MA has acted as a resistance for the past 2 instances on the 4-hour chart, might continue to do so. If there's a breakout above that level, the next target could be 82.50.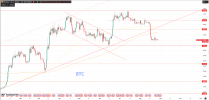 Crypto
The trading platform Robinhood (HOOD) now holds more than $3 billion worth of Bitcoin (BTCUSD) in a single wallet, revealed data from Arkham Intelligence. This accumulation, spanning several months, makes it the third-largest Bitcoin holder globally, trailing behind Binance and Bitfinex. The wallet's owners have prompted speculation, including theories about BlackRock's involvement or Gemini moving user holdings. While Robinhood hasn't commented publicly, it transferred 118,300 Bitcoins to this wallet over three months, managed by Jump Trading. Despite low crypto trading volumes, this sizable Bitcoin exposure showcases Robinhood's stake in the market.
Arkham Intelligence data shows Robinhood's (HOOD) single wallet holds over $3B in Bitcoin (BTCUSD), making it the world's third-largest holder after Binance and Bitfinex. The wallet's owners, potentially BlackRock or Gemini, remain speculative. Robinhood transferred 118,300 Bitcoin over 3 months to this wallet managed by Jump Trading, highlighting its market stake.
Technically, BTC is finding support at the $26,000 level while awaiting further direction. The next support is anticipated around $25,000. This level has served as a robust support and resistance point in the past four instances.