"MinMax Scalper"- What is it?


When lines with a suggested Stop Loss appear, you should BUY or SELL. You will then receive 2 adaptable Take Profit levels: Min Take Profit and Max Take Profit. Min Take Profit is the ideal time to close a trade for less risky traders. Max Take Profit is an excellent option for riskier traders because it can increase your profit.
It's as simple as 1, 2, 3.
With
"MinMax Scalper,"
you may maximize your trade quickly and effectively on timeframes between M1 and M15.
You can simply make 5 to 10 rapid transactions with a tiny deposit, increasing your profit to $100 or more every day. You can multiply your profit without restrictions and achieve financial freedom with a sound approach and top-notch tools.
The advantages are numerous and important! You can wave goodbye to your employer and your miserable job! You can start living your life as you see fit, start engaging in new activities, spend more time with friends and family, and take the chance to simply slow down and enjoy it.
How MinMax Scalper Works?
You have now experienced firsthand how well "MinMax Scalper" performs across a variety of pairs and periods.
I'm happy to let you know that you can achieve the same, if not superior, outcomes!
You only need to place the indicator on the chart and pay attention to its indications.
The calculations and hours of analysis are already done for you, so you won't need to do either!
You can see the BUY/ SELL Entry Levels on your chart as soon as "MinMax Scalper" identifies a trading opportunity. Yellow lines indicate BUY Entry lines. Red markers indicate SELL Entry lines. You are alerted as soon as the price touches the BUY/ SELL Entry lines since the indicator has validated a good trading opportunity.
When you open an order, the Stop Loss level line is automatically generated. The Take Profit Range with Min and Max Take Profit Levels appears on your chart after a while, when the indicator detects an ideal moment, and all you have to do is decide whether to close the trade with Min Take Profit or Max Take Profit.

As seen on the chart, you place a trade when the price reaches Buy or Sell Entry Levels that are produced by the incredibly effective algorithms at the most beneficial times.
Stop Loss Level is then generated automatically. All you have to do is watch for the price to hit the Range after the Take Profit Range with Min and Max Take Profit Levels is visible.
If the price rises above Min Take Profit, you can always manually exit the trade even if the price reaches the Min Take Profit Level.
Take Profit Range makes it very evident where you may exit trades with the fewest risks and the smallest profit, and where you can raise your profit while also increasing the level of risk. This is a wonderful opportunity to assess how risk-adequate your trading is.

Making all of your ambitions come true and elevating your quality of life through trading will be made possible by this function.
Signals are never repainted.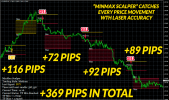 You have now experienced firsthand how well "MinMax Scalper" performs across a variety of pairs and periods.
You only need to place the indicator on the chart and pay attention to its indications.
The calculations and hours of analysis are already done for you, so you won't need to do either!
What is MinMax Scalper Kit?
As I've already shown, even those without any prior knowledge of Forex can profit. The fact that you may work on your own business, study, play sports, spend time with your family, travel, and work at another job all at once is great. anything you desire! Gains from the forex market may only add to your enjoyment of life.
You decide what to do and how much time you want to spend on your trading profession.
Additionally, they created a unique add-on tool just for "MinMax Scalper" to provide you even more freedom than MinMax already does. I'm pleased to give you the "MinMax Scalper Assistant."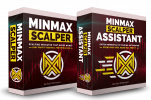 The Assistant window appears on the chart as soon as the indicator delivers a fresh signal, allowing you to place a trade in just a few clicks and a few seconds.
The following step is to select one of the suggested entry locations and click the associated button. And "MinMax Scalper" will carry out the following actions. At the right time, it will assume control of all necessary activities, including opening and closing orders (according to chosen settings).
This program is incredibly accurate and effective. It examines the market using historical data.
The outcomes of trades are simply outstanding because of various algorithms and tactics!
"Exit at Min Take Profit," "Exit at Max Take Profit," and "Exit at selected% of Take Profit" are the three exit options that are accessible.
When you select "Exit at Min Take Profit," an order will open right away and close as soon as the Minimum Take Profit is attained. When the Maximum Take Profit is reached, an order is opened and closed if the "Exit at Max Take Profit" button is clicked. If you select the third option, the deal is closed off at the manually determined Take Profit.
You can select whichever percentage of take profit you desire. Our default take-profit percentage is 33%.
There are so many different Exit possibilities! Pick anything you want with varying degrees of danger. So, everyone will discover a tactic that closely matches their preferences.
How IT Appears When Used?


FREQUENCY = NORMAL Signals from the conservative mode
Maximum Safety
Detection of Trends = Standard
low danger
Signal frequency in medium mode is high.
optimality = safety
Sensitive trend detection
Medium Risk


FREQUENCY = EXTREME IN AGGRESSIVE MODE Signals
Security = Low
Highly Sensitive to Trend Detection
Quite risky
You Won't Miss Any Trade With MindMax Scalper?
Three different alert alerts let you know when to open and close your order, so there's no chance you'll miss the opportunity to enter or exit a trade.
Indicator won't allow you the chance to forget about Forex deals, even if you have a tendency to do so. Using the following channels, it will let
1. MT4 Platform Pop-up Alert with Sound
There's no need to spend hours trying to stay awake while staring at your screen and attempting to predict when to enter a deal. Simply increase the volume and complete other tasks in the interim. Check your chart with the "MinMax Scalper" attached as soon as you receive the alert, then enter your trade.
2. Immediate Email Alert
Email alerts are available instantly. When it pings on your phone, it is incredibly handy.
3. Mobile Phone Push Notification
The advantage of this approach is that you can launch your mobile trading platform and initiate the trade as soon as you receive the notification.
What You Should Expect From MinMax Scalper?
a duplicate of a potent "MinMax Scalper" with built-in cutting-edge features that can quickly deliver you insane profit!
No subscription fees or upgrades are necessary.
A step-by-step guide that is easy to understand and follow would be a simple-to-use user manual.
It includes lovely illustrations of every choice that our tools can present to you.
Support - 24 hour support to make trading as simple as possible.
Final Verdict
Since "MinMax Scalper" was created with intelligent algorithms that can determine when to enter and exit trades with adaptable Take Profit Levels, it can assist you at every stage of your journey. Just heed its cues, and everything in your life will be turned upside down.
You can achieve all of your goals with the "MinMax Scalper"! Crazy money, a better life, more time, and the sense of being in charge of your own destiny!
Click Here To Get MinMax Scalper With Special Limited Discount Price