Administrator
Staff member
Nov 30, 2008
17,493
1,123
144
The
MetaTrader 5 platform
was updated to Build 3490 yesterday, on November 4. It has now become available via the platform's automatic update feature. This build coincides with a new version of Web Terminal, which is also working on mobile devices. It also adds new terminal and MQL5 features:
Extended the task manager to offer more information about running processes and their details.
Added a new OpenCL tab in the platform's Options menu to manage OpenCL devices.
Added display of stop-loss and take-profit orders to the Depth of Market in FIFO mode.
Fixed deletion of SL and TP orders using a cross icon.
Fixed graph captions and total commissions display in trading reports.
CopyTicks() and CopyRates() functions can now work with vectors and matrices.
Added more methods to work with vectors and matrices.
Added a possibility to use a FOREIGN KEY parameter when creating tables with SQLite.
Increased the maximum length of commentary for commits to MQL5 Storage from 128 to 260 characters.
Increased the sensitivity of the testing speed switch in the visual mode of the Strategy Tester.
Fixed some other errors.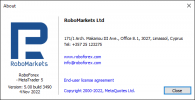 MetaQuotes' forum announcement thread:
https://www.mql5.com/en/forum/434550
If you find a bug or some undocumented feature in the new build, please post about it here.
Last edited: