Hi everyone I have an indicator that I want to use in my EA. This indicator should not be repainting, but I found some problem when using it in backtesting.
Here's screenshot on real chart,
and here's screenshot from backtesting,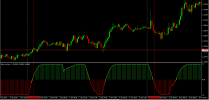 The indicator looks slightly different and if we look at the timestamped (red line) it give different result when indicator change direction. The difference looked like an hour in the picture but it keeps increasing further as the backtest goes. Anyone has an Idea why this behavior occurred and if there's a way to fix this problem?