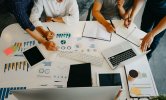 FX Meta Tech
aims to properly pave your path to success by providing you the best and robust services, ensuring an amazing trading venture.
Personalization.​
Our engaging and elucidated user interface is very easy to use and hence will draw in more clients. We ensure developing UIs that have sleek captivating designs and desirable features, tailor-made according to your requirements and preferences.
Our objective is to provide you the best user-friendly and dependable CRM.
One Multipurpose Platform​
FX Meta Tech offers you a
CRM
where your brokerage data can be easily managed. It also provides efficient features with which you can easily communicate with clients, execute IB administration smoothly and take the ideal marketing initiatives, all available within a single click.
Our CRM provides the seamless operation of MT4/MT5, Traders' Room, and other essential trading tools. Using our CRM will ensure you hold a place in the leads of the Forex game.
Extensive Client Assessment​
FX Meta Tech Forex CRM lets you have an extensive view of your client's profile, through which you can grasp each of your client's trading styles, profitability, etc. This will allow you to perfectly cater to each of your client's needs, according to their needs and welfare.
Multilevel Partner Management​
FX Meta Tech CRM offers a multi-tier partner/affiliates system with a dashboard that extensively illustrates all trades handled by each partner. Determine the access types assigned to the various partners with our CRM's role-based access feature at the admin level.
For maintaining privacy and protection from data theft, our CRM encrypts data and also hides the contact details from the sales team if the brokerage makes that decision.
Client History​
The Traders Room feature of FX Meta Tech CRM allows you to view your client's trading history, statistics, and other analyses at a single click. This enables the appropriate customizing of your approach to each client, increasing the opportunities of your cross sales and up sales.
Security Maintenance & Support​
For secure brokerage, FX Meta Tech Traders Room possesses the Know Your Client (KYC) feature. To meet the necessary requirements of the Forex business, FX Meta Tech involves the storing of essential information and have the latest technology to complete the procedure without any issues.
For both you and your clients' convenience, FX Meta Tech Traders Room has an integrated client support system, enabling your clients to communicate with you via sending messages and opening tickets.
Experience an elevated venture of Forex trading with FX Meta Tech and become the epitome of success.