Hi EVERYONE, nice to be a member of this forum. I found this forum on my quest for developing an EA and I've tried one or two other sites to no avail. I must confess that I'm not really tech-savvy but I love being around like-minded and smart people. What I want is someone who can help me develop this EA. OK, now I'll go straight to the EA point...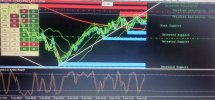 The indicator that I would love to convert to an EA is MQLTA MT4 Stochastic Multi-Timeframe. This indicator displays OB (over bought), OS (over sold) and OK (when price is in-between OB and OS) across all the time frames. What I want is an EA to buy only when all the 1M, 5M, 15M and 30M time frames are overbought at same Time and sell only when the 1M, 5M, 15M and 30M time frames are oversold at same time. Pls note that all 1M, 5M, 15M and 30M TimeFrame must be either OS or OB before a sell or buy order respectively. Also not that I want to have the option of changing inputs such as take profit or stop-loss which I have specified earlier. With added features such as
Email alert when the 1M, 5M, 15M and 30M are either OB or OS
Ability to pause the EA
Ability to use on select currency pair
Ability to set/fix take profits at 20pips
Ability to fix/set stop loss at 20pips
The EA must not trade an hour to the close of the market and after the open of the market
Pls remember I want to add the feature to stop the EA from enter a second/other trades after the first trade because when 1minute TimeFrame can come in and out of overbought or oversold. Ultimately, after the first trade, it should only enter at the other side of the indicator.
For example, all specified time frames are on oversold and a sell trade has been triggered, the EA should not place another trade when any of the timeframes goes OK and back again to oversold but should only place another trade when the EA moves back to overbought. Thus triggering a buy trade this time.
That's all I can remember now, pls be kind enough to ask me questions, your ideas and support will be highly appreciated.
NOTE: I really dont know if its right to post this in
General Discussions
or this section, pls forgive it.
Last edited: