"FX Trend Stalker
" is a powerful Forex market indicator that is packed with features that will help you succeed in trading. The indicator is applicable to all major currency pairs and works on the M1-M15 timeframes.

Who is it intended for?
To create
"FX Trend Stalker,"
a team of our best experts spent a significant amount of time combining various algorithms into a single tool. Despite the fact that it appears to be quite complicated, the indicator's interface is extremely user-friendly. When you first start using a tool, it becomes intuitive once you understand how it works. So, while the indicator is difficult on the inside, everything is clear on the outside, even for a novice trader. The only thing you have to do is follow the BUY and SELL signals that appear on the screen of an MT4 platform and watch your profit grow.
It undoubtedly appeals to experienced traders as well. Because of the various levels of trend confirmation, traders with years of experience in the Forex market may find "FX Trend Stalker" useful.
As a result, "FX Trend Stalker" is ideal for both novice and experienced traders.
What amazing Features has FX Trend Stalker?
Due to wave theory and smart algorithms, Trend Power Detector displays the current (buy/sell) trend strength and the probability of price movement in the appropriate direction.

The higher its value, the more likely a new wave of strong price movement will appear, so now is a good time to enter.
As a result, when Trend Power Detector displays 5-8 bars, we refer to it as a Powerful Entry.
How Does FX Trend Stalker Work?
You can enter a trade based on the BUY/SELL signal once the Indicator generates a new signal and the dynamic neon line changes color. The blue line indicates a buy, while the red line indicates a sell.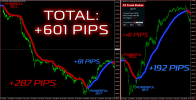 If you prefer to trade safely, you can wait for the Powerful BUY/SELL signal (when the trend is extremely strong) and enter trades only when wide neon lines with crosshair icons appear on the screen.
Unique Trend Detector feature: based on your trading style, you can determine whether it's worth it or when it's better to enter a trade by looking at arrows in the informer confirming the trend direction on M5-M30 timeframes.
What is Fx Trend Stalker Assistant?
If you prefer the highest level of convenience and also want to spend less time trading without lowering your results, but rather improving them...
Then, especially for you, we developed additional software to maximize the effectiveness and benefit of the indicator, making your trading process simpler.
The "FX Trend Stalker" is a fantastic tool in and of itself. Nonetheless, "FX Trend Stalker Assistant" will make your trading more efficient and profitable!
Notifications and Alerts
Traders no longer have to waste valuable time monitoring changes in the Forex market.
The indicator with a special alert system will assist you in not missing any trades.
The Indicator will alert you when it is better to open or close an order in three ways:
1. MT4 Platform Pop-Up Alert with Sound
The sound on your device will warn you that a signal is being generated; just remember to turn it on!
2. Email Notification
Don't worry about leaving your house because our indicator will send you an email as soon as a new signal is generated!
3. Push Notifications on Your Smartphone
Even if you are not near your PC, you will receive notifications on your mobile phone.
What is express installation?

The installation will take no more than 5 minutes because it is very simple. Simply follow three simple steps!
Following the payment, you will be taken to a special Member Area Access page with a direct link to download the product. You'll also receive an email with a link to the Member Area Access page, allowing you to download files whenever you want.
Extract the file from the.zip archive. Follow the installation and activation instructions in the User's Guide that comes with the product.
Relaunch MetaTrader4 and add the indicator to your chart.
Make the Most of Forex Opportunities
Forget about the 9-5 Groundhog Day schedule.
Work only a few hours per day from wherever you are.
Have complete control over your earnings.
Constantly strive for personal development.
Over time, become an expert in trading.
Forex trading is undoubtedly fraught with difficulties. Overcoming them, on the other hand, is the most valuable experience a Forex trader can have. With our trading tools, we actively encourage traders to "conquer the world."
Trading is about more than just making money; it's also about having fun while doing it.
When you trade with an automated EA, it's great, but when you earn the same amount with your own hands using the Indicator, it's a rare pleasure. You already know what I'm talking about, or you'll figure it out later!
Click Here To Get FX Trend Stalker For The Best Price