What's contained in "FX Midas?


The brand-new Forex indicator
"FX Midas"
i
s based on both natural and, more significantly, scientific rules. The greatest way to make the most of it is to use every opportunity that presents itself.
You can utilize "FX Midas" as a superb trading tool on the MT4 platform.
With precise built-in algorithms and exclusive characteristics, it will turn into your magic wand and enable you to get all the desired outcomes!
You will make better selections and continue to make more money as you get experience using this program.
Our outstanding indicator can be used to trade on M30-D1 and all significant currency pairs.
FX Midas' main characteristics are:
Smart Enter function and "FX Midas" display that is simple to access. The charted signals are depicted in the drawing after the price.
BUY/SELL Every time a new BUY or SELL signal is created, arrows are visible on the display. You won't miss any trading opportunities once the trend is strong.
On the top of the chart, there are two different entry types. The bigger arrow displays when Smart Enter is generated and the trend is verified, reducing the risk of your trading. The smaller arrow allows you to enter the trade when the trend has altered.
FX Midas' main characteristics are:
A trend indicator called "FX Midas" was developed to help you trade steadily and profitably in the forex market.
The RED line and arrow appear on the chart when the "FX Midas" indicator produces a BUY signal. You can open a BUY order right now.
When the indicator provides a SELL signal, you can place a trade; at this time, the YELLOW line and arrow appear on the chart.
The Smart Enter is generated when a sparkle above the trend line appears. Currently, you can also make a trade. Smart Enter is appropriate for individuals who want to get additional trend confirmation to increase trade security.
The ability of our Smart Enter function to self-learn is crucial information to know. By looking at the history of prior signals, it develops the ability to predict the best time to enter a trade. As a result, the Smart Enter function will continue to give you improved opportunities to open an order over time.
In order to create this functionality, I employed a genetic algorithm.
Two entry opportunities are given to you by the "FX Midas" Indicator. You can therefore decide what is best for you.
Access at Main Enter - As soon as a fresh signal is generated, you have the option to place an order. For those who take more risks, it's a good option.
Enter at Smart Enter - By selecting this entry method, you'll reduce your risk of suffering losses because Smart Enter serves as a signal for the strength of the trend.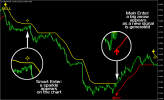 Overall, "FX Midas" not only provides you with correct signals but also protects you against high dangers, enabling you to feel upbeat, energized, and inspired to live life to the fullest!
Who can use "FX Midas"?
Anyone who is prepared to make money can use
"FX Midas"
when trading! It is an effective instrument for trading with little risk and lots of success potential.
It's an incredibly simple instrument to use and gain from if you're just starting out in trading and lack the necessary knowledge. There is no need to process a lot of data regarding trading tactics and already-developed algorithms. We provide you with a product that is currently usable. Simply adhere to the generated indications. The indicator will show you every opportunity to place a buy or sell order as well as when to close your orders.
However, if you have more expertise, you'll appreciate trading using this magical tool as well. You'll enjoy it! You will be able to make your trading procedure stress-free and enjoyable if you have access to dependable algorithms, unique features, and flexible settings.
The trading instrument "FX Midas" is beneficial to all traders!
How "FX Midas" Appearances in Use

Take a look at how amazing our brand-new "FX Midas" is...





So You won't need to continuously assess the market, forecasting the trend and potential results for your trades.

Simply open orders as soon as a signal is generated is all that is required. You don't need to worry or do complicated calculations; simply have faith in us and trade with the market.

While our "FX Midas" is making money for you, spend time doing what you want, quit working endlessly, spend your free time with the people you love, and work on improving yourself.





Additional Bonus «FX Midas Assistant». How it Works?

Without a doubt, "FX Midas" is intelligent enough to help you make profitable trades, but when combined with our "FX Midas Assistant," it's much better.

We have created a "bonus" tool, supplementary software, just for people who will purchase the "FX Midas" Indicator. This tool will liberate you from any obstacles in your trading process and make it easier but more efficient than ever.
This program is made to help you make more money with less time and effort spent gazing at open charts.

Here is the "FX Midas Assistant," which can calm your anxieties, save you time, increase your chances of success, and give you the impression that anything is possible!

SO HOW DOES IT WORK?

The "Forex Midas Assistant" box appears when the "FX Midas" Indicator generates a new BUY/SELL signal and presents you with the following entry options:

Enter Now
Smart Enter
Don't Enter
What is the best option to use "FX Midas"?
The market is analyzed by "FX Midas" algorithms, which provide the best Entry and Exit options for Buy/Sell trends.
To avoid missing an opportunity to make money, you can initiate the trade as soon as a new signal is issued.
You have the option of starting the trade as soon as a fresh signal is issued or of waiting for the Smart Enter to increase your confidence in the strength of the trend.
What is accelerated installation Option?
You'll see our "FX Midas" on the chart in front of you in just a short while.
Install
Installing our tools won't take very long. There is also the User Guide, which simply contains the information you need to get things done quickly and easily. Just carry out these actions.
You'll be taken to a unique Member Area Access page immediately after making the payment. A link to the product download will be visible. The URL to your Member Area access will be emailed to your email so that you may access it easily during installation. As a result, you will have access to the files anytime you need them.
Extract the file from the.zip bundle that you downloaded. The User Guide's installation and activation instructions should be followed.
Launch MT4 once more, then add the indicator to the chart.
Get your trading profit!
You will receive the User Guide, which contains all the details about the indicator, its activation, key features, and helpful trading advice, so you don't need to keep track of every little thing.
Click Here To Get FX Midas" With The Best Price