Nov 16, 2021
1,824
20
54
38
Chart of the Day - GBPJPY​
The Japanese yen is in the center of attention today, following the Bank of Japan monetary policy. The Bank of Japan decided not to make a move today - interest rates were left unchanged and the tolerance band around target 10-year yield was left unchanged as well. This was seen as disappointment. The Bank of Japan has to intervene almost on a daily basis to bring 10-year yields down from the upper limit of the tolerance band so investors hoped that another widening of the band could be on the cards today. No such decision was made and JPY took a beating as a result. BoJ Governor Kuroda said during a post-meeting press conference that he does not believe the tolerance band needs to be widened further. Nevertheless, the term of Governor Kuroda ends in April this year and his successor may have different beliefs when it comes to markets and rates.
However, it should be noted that the Bank of Japan did make some changes today. BoJ announced that it is amending rules for funds-supply market operations. New rules allow the Bank of Japan to make loans against collateral to financial institutions on both - fixed and variable - rates. Earlier, loans with maturity of up to 10-years were only offered at fixed-rate. The move is aimed at making funds-supply market operations a viable tool for preventing excessive increases in the long-term rates.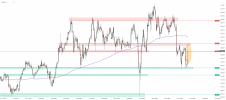 As no changed to the rates or tolerance band was made and Bank of Japan pledge to continue with large scale bond purchases to keep yields in check, one should not be surprised that Japanese yen took a hit today. JPY was trading as much as 2.5% lower against US dollar at one point, and over 2% lower against almost all other majors. However, big part of the move has been erased already.
Taking a look at GBPJPY chart at D1 interval, we can see that the move on the pair today was massive. Pair traded 2.5% higher at one point and was testing the resistance zone ranging below 162.00 handle, and marked with previous price reactions. Nevertheless, as we have said earlier - a big part of the move was already released and GBPJPY pulled back to the 160.00 swing level.​