Daily News Update​
​
09 November 2023​
Thursday​
A pivotal day in the economic calendar approaches, as on Thursday, November 9th, 2023, both China and the United States are slated to make significant announcements. China will be revealing its CPI y/y data, while the United States is scheduled to release its unemployment claims figures.​
CNY – CPI y/y​
Consumer prices carry substantial weight in determining the overall inflation rate, a critical factor in currency valuation. This is due to the fact that when prices rise, central banks typically respond by increasing interest rates. The correlation between inflation and interest rates holds significant implications for currency fluctuations and trading strategies, making it a focal point for market participants.
In September, China's CPI remained flat with no year-on-year (YoY) growth, following a slight uptick of 0.1% in August. This figure fell short of market expectations, which had anticipated a 0.2% increase. On a monthly basis, Chinese CPI inflation rebounded to 0.2% in September, marking a significant recovery from the 0.3% decline observed in August and surpassing the expected 0.3% rise. In contrast, China's Producer Price Index (PPI) experienced a 2.5% YoY drop in September, marking an improvement from the 3.0% decline recorded earlier. The market had foreseen a 2.4% decline for the ninth month of the year.
TL;DR

On
November 9th, 2023
, at
1:30 AM GMT
, China will unveil its
CPI y/y data
.
The forecast for
China's CPI y/y
suggests a rise to
0.2%
, marking an increase from the previous
0.0%
.
Last time, the
Chinese CPI y/y
was announced on the
13th of October, 2023
. You may find the
market reaction graph (USDCNH M1)
below:
USD - Unemployment Claims​
Although typically viewed as a trailing indicator, the number of jobless individuals carries substantial significance as it reflects the general economic health, given the robust link between labor market conditions and consumer expenditure. Unemployment also plays a crucial role in the decisions made by those responsible for guiding the nation's monetary policy.
In the latest report, the number of Americans filing for unemployment benefits rose by 5,000 to 217,000, exceeding market expectations and hitting a two-month high. Continuing claims also increased by 35,000 to 1,818,000, the highest since April, indicating challenges for job seekers. This data aligns with the Federal Reserve's concerns about a softening labor market, despite historically tight conditions. The four-week moving average increased by 2,000 to 210,000, and non-seasonally adjusted claims showed notable spikes in Michigan, California, and North Carolina.
The next report on
Unemployment Claims
is scheduled for
Thursday, November 9th, 2023, at 1:30 PM GMT
.
The forecast for
Unemployment Claims
anticipates a slight uptick from
217,000 to 220,000
.
Last time, the
US Unemployment Claims
was announced on the
2nd of November, 2023
. You may find the
market reaction graph (GBPUSD M1
below: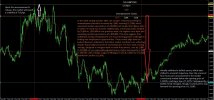 ---
Disclaimer: The market news provided herein is for informational purposes only and should not be considered as trading advice.