Bitcoin's on-chain metric has been almost flat for the past few weeks but is showing signs of a bullish trend. Bitcoin has been in the range of $29,000 to $40,000 after hitting a record high of $41,953 on January 8.
Why are traders still bullish?
While prices are in a lull, demand continues to outpace supply. Glassnode wrote in its weekly report:
In 2021 so far, around 26,000 BTC have been mined. Meanwhile, the Grayscale Investment Trust has acquired over 40,000 BTC in the same period.
Moreover, bitcoins held by exchange addresses, that is, the liquidity on the seller side is decreasing.
Notably, on January 1, the Bitcoin balance on the exchange decreased to 2.5-year low of 2,349,040 bitcoins, according to the data from Glassnode data.
On the other hand, the number of BTC whales' wallets holding 1000 bitcoins or more was 2218, the highest number in history on January 31. The number of so-called "whales" increased by more than 50 while prices remained flat, indicating that large investors are continuing to buy Bitcoin.
Will Bitcoin price drop due to profit-taking?
It seems unlikely that prices will fall due to selling due to profit-taking. The 24-hour average of adjusted spent output ratio (aSOPR), which indicates the profit margin of Bitcoin, has dropped to 1.00, indicating that Bitcoin is not making a profit.
"SOPR" is the profit margin of Bitcoin calculated from the latest transaction price. "aSOPR" is an index that is a more rigorous modification of SOPR, removing those with trading intervals of less than one hour.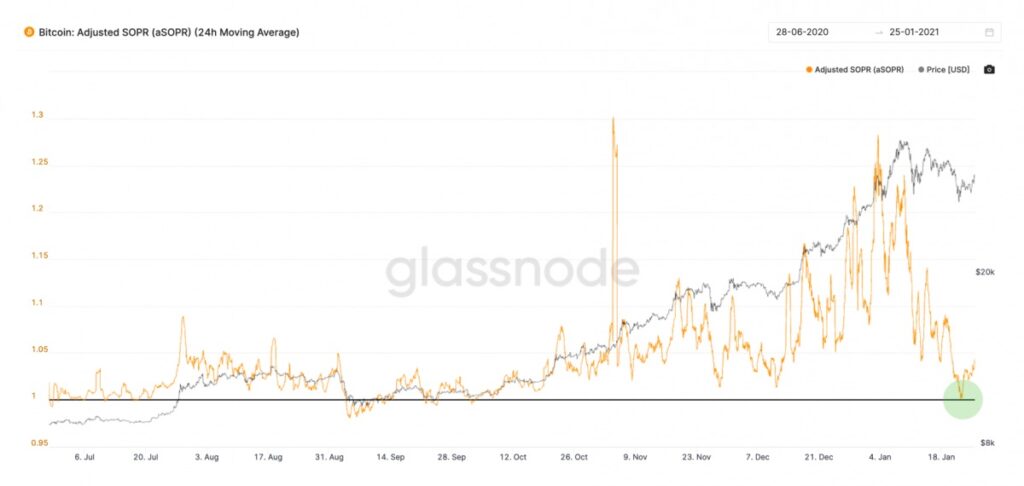 During a bear market, investors generally lose money, but Bitcoin is now in the bull market, up 200% in the last three months. Glasnode wrote:
A decline in SOPR means that investors have sold at a loss, but in the current market situation, it is unlikely. This situation will give the market some stability and move on to the next rise. We look forward to paving the way for this.
So far, aSOPR has never dropped below 1.0 during the bull market. In other words, it seems likely that Bitcoin will move beyond $40,000.
According to Alex Kruger, trader and analyst "a big price hike may happen within two weeks. Now everything is bullish."
Read also: Will Bitcoin Price Rally to $146,000? JPMorgan Thinks So
Strong dollar is a cause for concern
Kruger, however, cites the possibility of short-term risk of a stronger dollar to Bitcoin's bullish trend. The dollar index (DXY), which is used to measure the value of the dollar against foreign currencies, shows a typical bullish pattern (figure: lower right) and is on an upward trend.
According to Kruger, "if the bullish trend evolves from the recent rise in DXY, it could be a nuisance for Bitcoin."
Moreover, the co-founder, and COO of Stack Funds, Matthew Dibb has expressed similar concerns when Bitcoin rose from about $14,000 in early November alongside the dollar index. He pointed out the fact that the rally coincided with the time when it fell from 94.5 to 89.00.
Since the crash in March 2020, Bitcoin has been moving roughly in the opposite direction to the USD and was flat or rebounding when the US dollar rose. The US dollar was rising during the recent decline from Bitcoin's all-time high and the subsequent flat period.
Whenever risk sentiment worsens around the world, there is a natural desire to move to the US dollar. As a result, Bitcoin, which is still an emerging asset, faces risk aversion.
However, Bitcoin is attractive in the medium and also in long term. Also, from a long-term perspective, Bitcoin should become a currency in demand during the risk-off period.
At around 21:15 GMT, the price of the premier cryptocurrency is trading at $17,642 on Bitstamp.
If you have any questions and comments on Bitcoin today, use the form below to reply.